Tin tức
JBAV-KEIDANREN grants 24 scholarships to Hue University students
-
11/12/2015
On December 2, 2015, a scholarship presenting ceremony by Japan Business Association in Vietnam (JBAV) and Japan Business Federation (KEIDANREN) to Hue University students was held at Hue University.
JBAV – KEIDANREN scholarship is sponsored by Japan Economic Association in Vietnam, Japan Business Association in Danang, Sumitomo Corporation Vietnam LLC and Japanese economic groups and enterprises in Vietnam with the aim at giving support to needy yet excellent students in Vietnam. Each scholarship is valued at $ 200.
Said at the ceremony, Hue University Vice President Truong Quy Tung expressed his sincere gratitude to JBAV and KEIDANREN.  He hoped that the scholarship will not only give students with good job opportunities after graduation but also enhance the firm relations between Japan and Vietnam.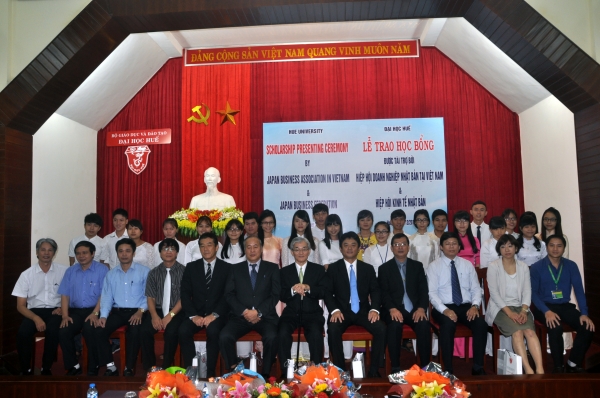 ofic
---
Các tin khác

University of Economics, Hue University: The third edition of Vietnam Symposium in Banking and Finance VSBF 2018
(08/11/2018)

Hue University and Gadjah Mada University (UGM), Indonesia found many things in common
(24/10/2018)

CALL FOR 5th BATCH OF SHARE SCHOLARSHIP PROGRAM: INTRA-ASEAN MOBILITY
(27/01/2016)

ASK-Asia (EMA3) Results: Studies and Reports
(26/01/2016)

Hue University became an official member of ASEAN University Network – Quality Assurance (AUN-QA)
(06/01/2016)

Đại học Huế chính thức trở thành thành viên liên kết của Tổ chức Đảm bảo chất lượng Mạng lưới các trường đại học Đông Nam Á (AUN-QA)
(06/01/2016)

A talk by Science Envoy Dr. Geraldine Richmond
(05/01/2016)

Buổi nói chuyện của Giáo sư Geraldine Richmond, Đặc phái viên Khoa học Hoa Kỳ
(05/01/2016)

Inauguration of Family Medical Center, College of Medicine and Pharmacy, Hue University
(05/01/2016)

Khánh thành Trung tâm Y học gia đình, Trường ĐH Y Dược – Đại học Huế
(05/01/2016)