On November 17, 2017, Hue University solemnly celebrated the 35th anniversary of Vietnam Teachers' Day (November 20, 1982 - November 20, 2017). Over the past 60 years of building and development, Hue University has been growing and playing a pioneering role in providing high quality human resources training, contributing to socio-economic development of the Central region, Highlands and the whole country. In the past academic year, the academic and administrative staffs of the universities and units affiliating with Hue University actively strived to obtain many achievements across all areas of work.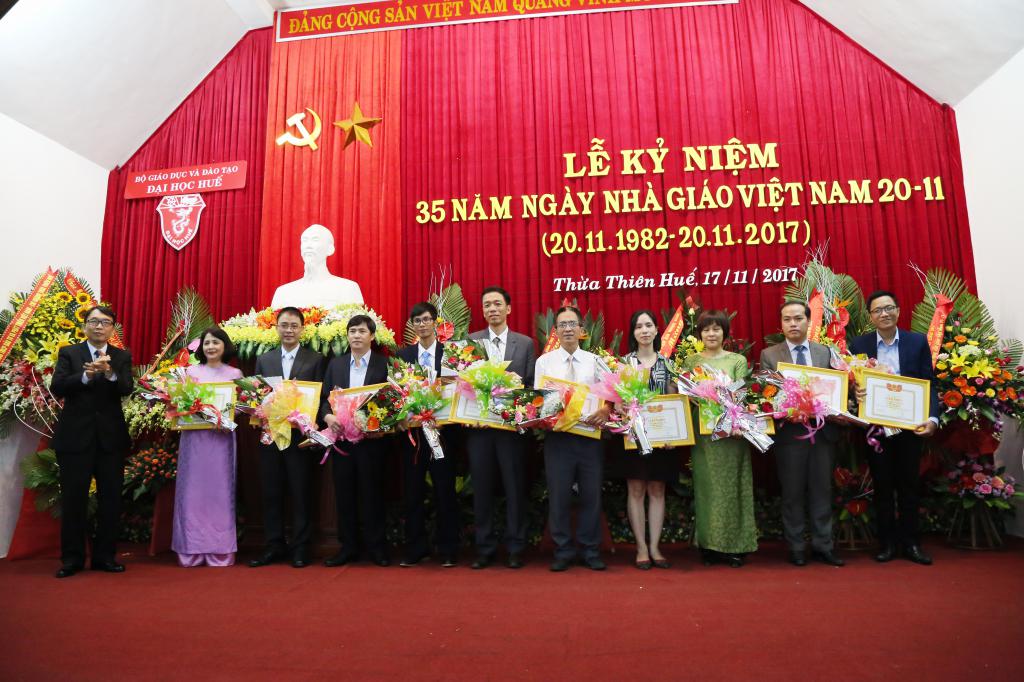 Assoc.Prof.Dr.Nguyen Quang Linh, President of Hue University awarded certificates of merit and awards to 10 research teams which had most scientific papers published by prestigious scientific journals, international publishers. Nearly 100 individuals who had scientific works published by prestigious international scientific journals and publishing houses were also recognized.
Assoc.Prof.Dr.Nguyen Quang Linh, President of Hue University, presented certificates of merit and awards to 22 individuals who successfully defended their doctoral dissertations before the age of 30 or ahead of schedule or funded by foreign scholarships.
Hue university also honored 27 individuals won national and international awards such as Award for creative labor, Co do Award for Science and Technology 2017, the 13rd National Technical Innovation Competition, Vietnam Fund for Supporting Technological Creativeness VIFOTEC, Vietnam national innovation competition, etc.
Dr. Hoang Thi Anh Dao, lecturer of Faculty of History, University of Sciences, Hue University, spoke on behalf of the young lecturers who was presented the awards for talent encouragement.
The total prize for this academic year is nearly 600 million VND deducted from the Hue University's talents promotion fund. The number of awarded individuals and teams doubled compared to previous years. Especially this year, in order to encourage the formation of strong research teams, the President of Hue University decided to award a total amount of nearly 200 million VND to 10 teams of which works have been published by international scientific journals and publishers.