Dr. Do Thi Xuan Dung, Vice President of Hue University presented souvenirs to Mr. El Mustapha Belgsir, Vice Chairman of Grand Poitiers Urban Community Authority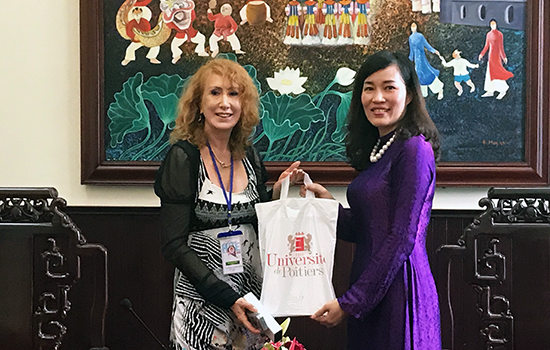 Dr. Do Thi Xuan Dung, Vice President of Hue University and Mrs. Christine Fernandez-Maloigne, Vice-President of the University of Poitiers
At the reception, Mr. El Mustapha Belgsir, Vice Chairman of Grand Poitiers Urban Community Authority, said that this was his first visit to Hue, fortunately on the occasion of the 10th Hue Festival. The aim of the visit to Hue City in general and Hue University in particular was seeking to establish a partnership between Grand Poitiers Urban Community Authority and the People's Committee of Thua Thien Hue province in the areas of trade, investment, health, education, culture, heritage, etc. In the field of education, Mr. El Mustapha Belgsir, hoped that through this visit the University of Poitiers and Hue University would find mutual interests and potential partnerships.
Dr. Do Thi Xuan Dung, Vice President of Hue University, introduced general information about Hue University, briefed recent collaborations between Hue University and French universities and organizations and hoped that this would be a good start for future cooperation programs, especially in training, mobility in the fields of French language, medicine, pedagogy, etc.
The University of Poitiers, founded in 1431, was originally composed of five Colleges: theology, canon law, civil law, medicine and arts. As early as the 16th century, the University of Poitiers was the centrepiece of the city's cultural life. At that time, it was considered the second most important University in France after Paris. During the 19th century, the University of Poitiers was refounded and strengthened by the addition of new colleges (literature and science).
Poitiers University has 7 colleges, 2 schools and 5 institutes, offering comprehensive and multi-disciplinary programs, from bachelor to doctoral degrees in the fields of Law and social sciences; Economics; Fundamental and applied science; Literature, languages and performing arts; Social sciences and arts; Medicine and pharmacy; Sports sciences; Engineering and technology; Pedagogy; and Management. The University of Poitiers currently serves more than 26.000 students and employs more than 3.000 people, including: teachers and academics, engineers, contract PhD students, contract teachers, etc.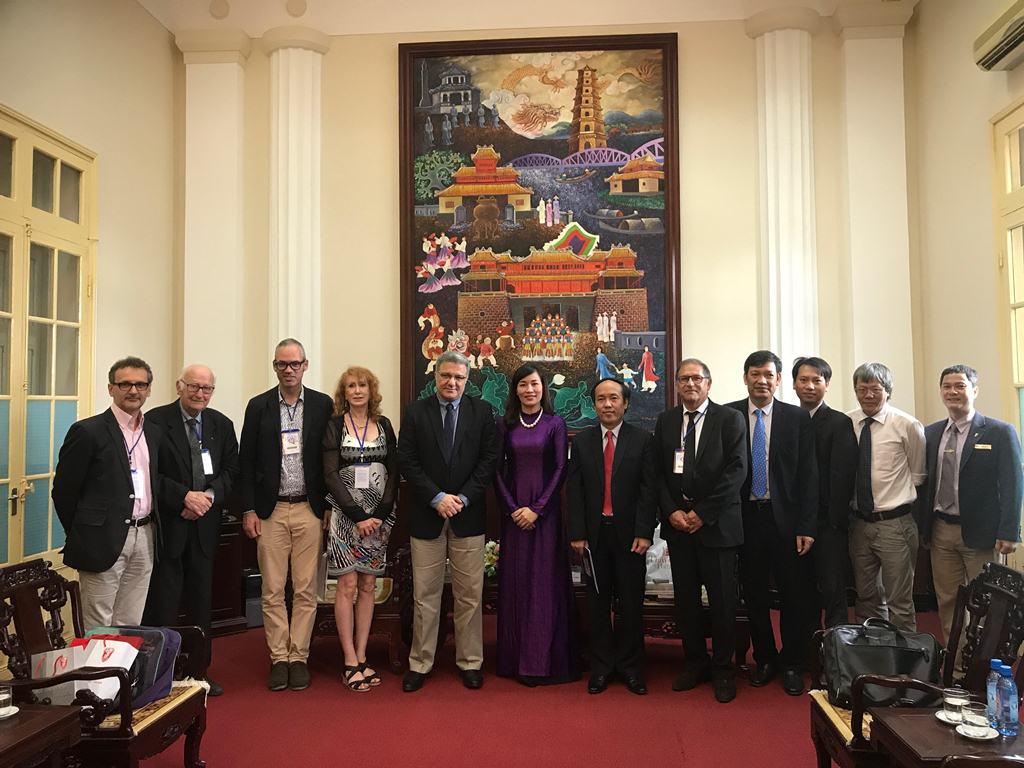 On the same day, the delegation had a working visit to the University of Pedagogy and University of Medicine and Pharmacy of Hue University.