Assoc.Prof.Dr.Nguyen Quang Linh, President of Hue University delivered his welcome speech at the workshop
Mr. Tran Nam Tu, Deputy Director General of Department for Science, Technology and Environment, MOET at the workshop
The workshop was attended by many leaders from MOET, management agencies and departments of Thua Thien Hue province; Universities nationwide; International universities from Taiwan and Laos.
International cooperation in science and technology has become an important factor in the present international economics and socio-economic development of Vietnam. It is a great resource, bridge, channel which can not be missed for science and technology. In recent years, Vietnam's S&T has gained remarkable achievements, thanks in part to the open-door policy of the Party and the State. To date, Vietnam has established cooperative relations in science and technology with more than 90 countries, territories and international organizations. Not only has the scale of cooperation expanded but the forms and contents of cooperation has also become more diversified and more practical.
This workshop aimed to identify the achievements and shortcomings of international cooperation in science and technology at higher education institutions; Sharing, exchanging experiences, enhancing cooperation in science and technology between higher education institutions and foreign organizations and partners. In addition, the workshop provided recommendations and solutions to promote international cooperation in science and technology in Vietnam's higher education institutions in the new integration and development phase.
The keynotes at the workshop included: International Cooperation in Science and Technology of Hue University, 2012 - 2017 (Assoc.Prof.Dr.Hoang Huu Hanh, Director of International Cooperation, Hue University); The role of international cooperation in science and technology in the context of industrial revolution 4.0 and self-control mechanism for higher education institutions(Assoc.Prof.Dr.Vo Trung Hung, Head of Science, Technology and Environment, University of Da Nang); Developing Cooperation Programs in Science and Technology of Can Tho University (Assoc.Prof.Dr.Le Viet Dung, Vice Rector for International Relations and Scientific Research of Can Tho University); Science related UK funding and fellowships (Ms Nguyen Thu Giang, British Council, UK); The quality and quantity of prestigious international papers is proportional to scientific research cooperation towards the knowledge economy (Assoc.Prof.Dr.Tran Vui, University of Education, Hue University); International cooperation to create resources for research and training: lessons learned from University of Medicine and Pharmacy, Hue University (Dr. Nguyen Thanh Thao, University of Medicine and Pharmacy, Hue University).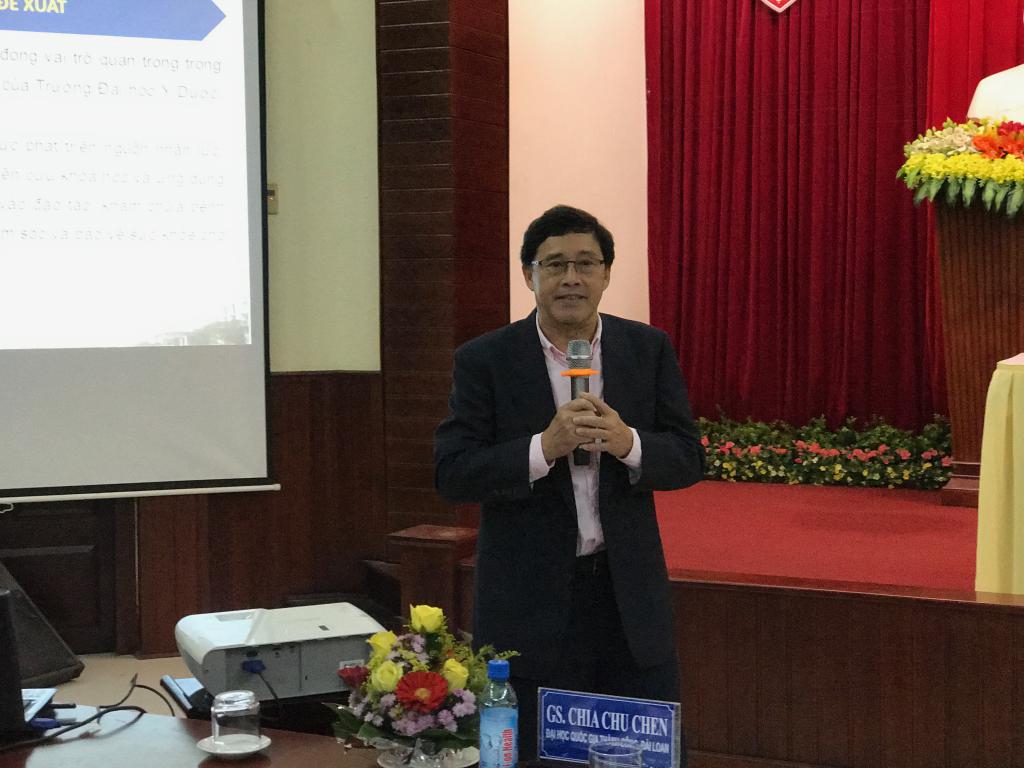 Prof. Chia Chu Chen, National Cheng-Kung University, Taiwan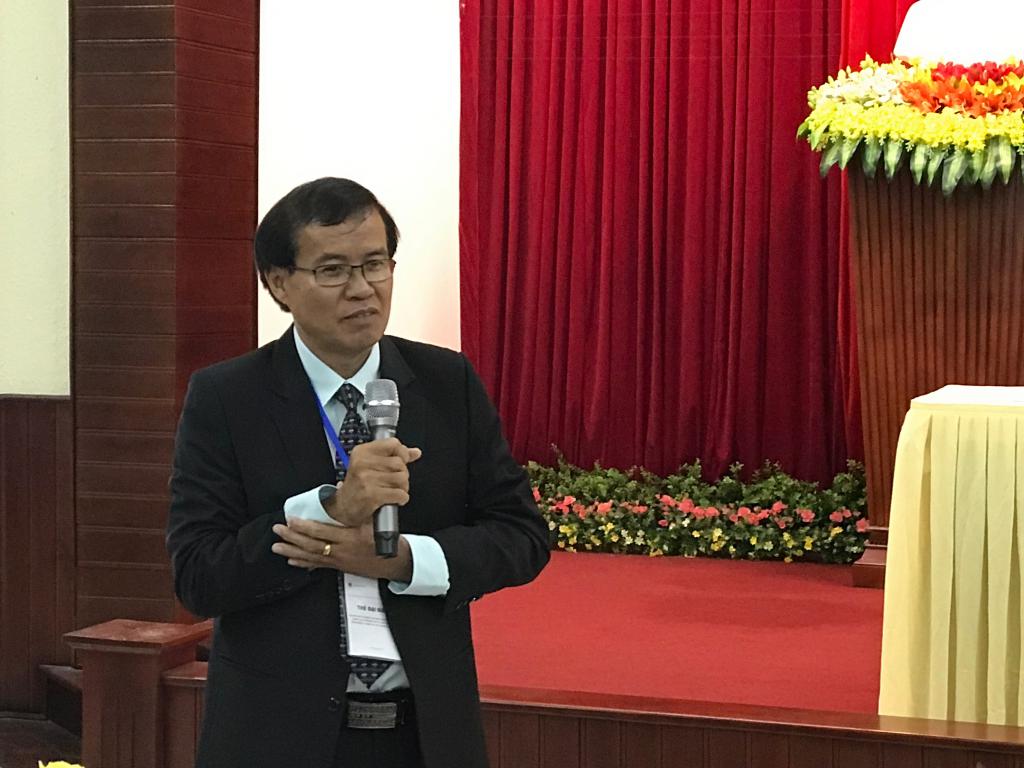 Assoc.Prof.Dr.Sitha Khemmarath, Vice President of Savannakhet University, Laos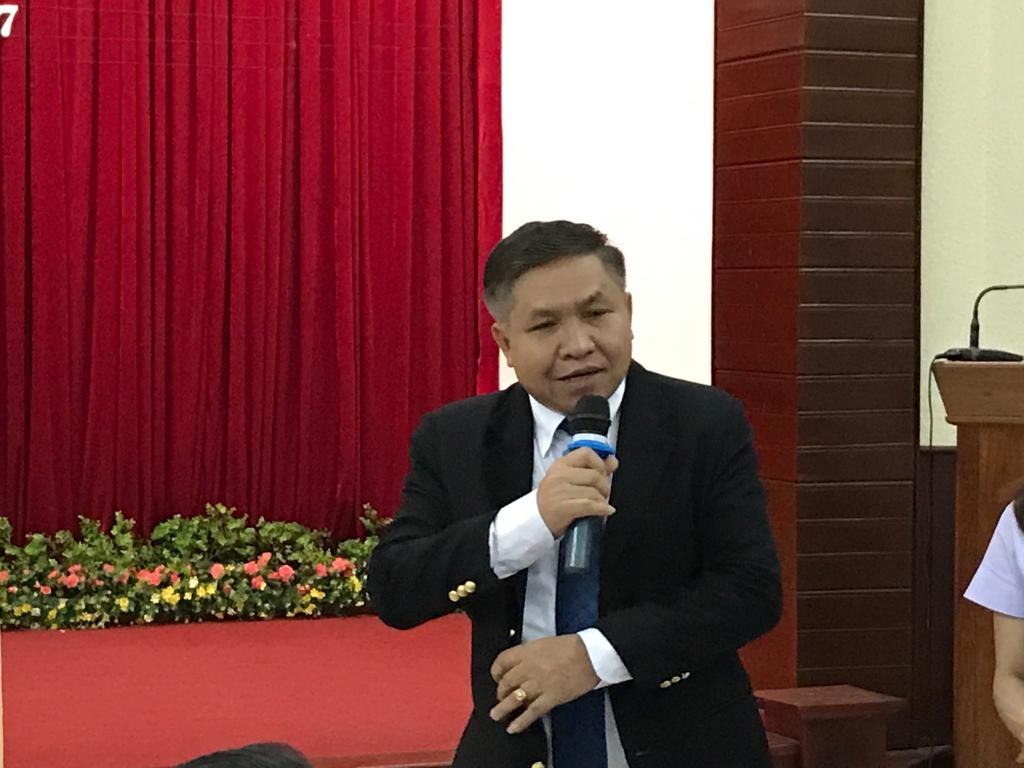 Prof. Somsy Gnophanxay, President, National University of Laos
Participants to the conference, who are scientists and managers of higher education institutions, spoke frankly on issues related to international cooperation in science and technology such as the problems of two-level university in international cooperation of S&T; Orientations to improve university rankings; Developing research journals of international education institutions; Funds for collaborative research projects.
Assoc.Prof.Dr.Nguyen Quang Linh, President of Hue University (the host of the conference), emphasized that this workshop is to contribute to the realization of the Party and State's policy on science and technology development, is a chance for the agencies to propose ideas to promote IC in S&T. In this regard, the President of Hue University proposed: to delegate approval of research projects to universities under the State's university autonomy policy; Promote bilateral cooperation, create motivation to cooperate with traditional partners, strategic partners and potential partners. Particularly, in the cooperation program between Vietnam and Laos, it is necessary to push training of Lao students at both undergraduate and graduate level, English training, increase scholarships, etc. At the same time, to build cooperation networks, to have appropriate policies to attract foreign human resources are also neccessary. Each university should have its own international cooperation strategy, in which the role of individuals should be emphasized. Each student, each alumni is his or her university' ambassador in building international cooperation; Have an appropriate policies to attract Vietnamese overseas to return to Vietnam.
The workshop ended at 12 o'clock the same day.