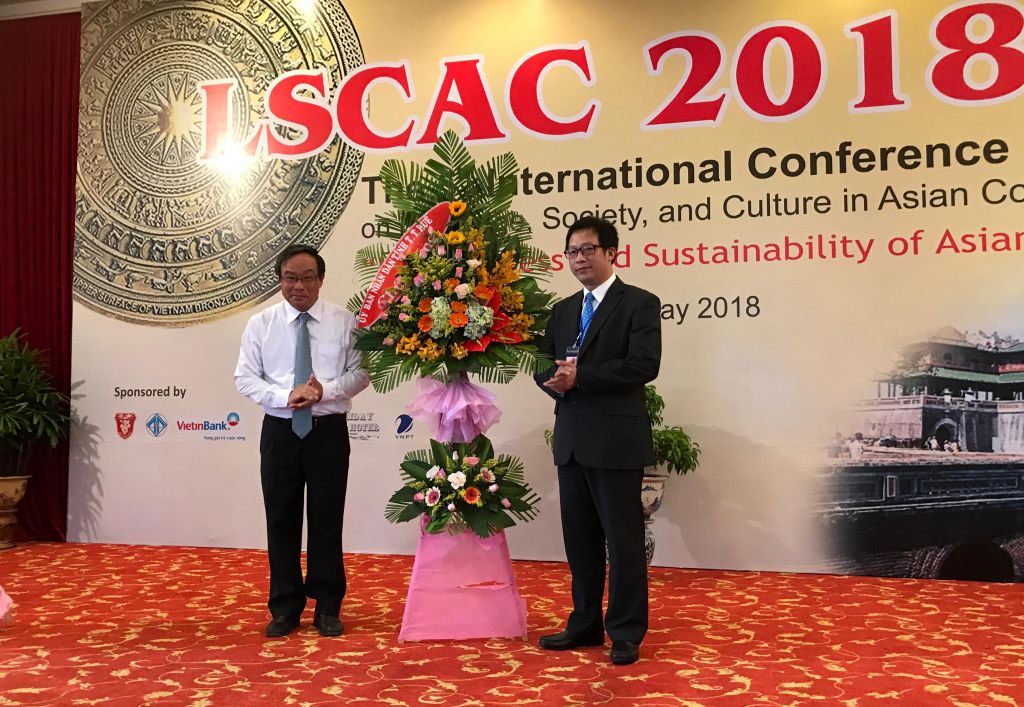 Mr. Nguyen Van Cao, Chairman of Thua Thien Hue Provincial People's Committee presenting flowers to Assoc.Prof.Dr.Le Anh Phuong, Rector of University of Education, Hue University wishing a successful conference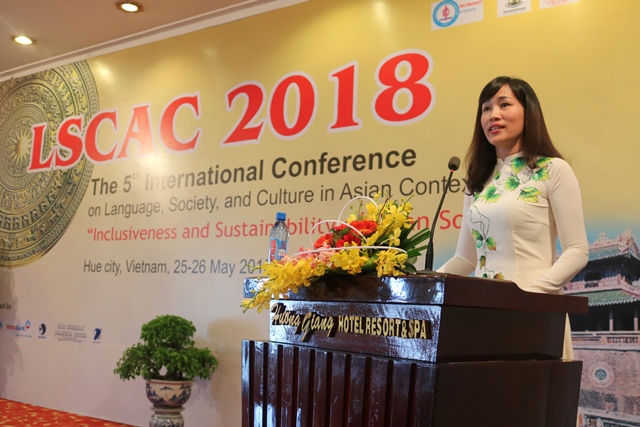 Dr.Do Thi Xuan Dung, Vice President of Hue University, delivering the opening speech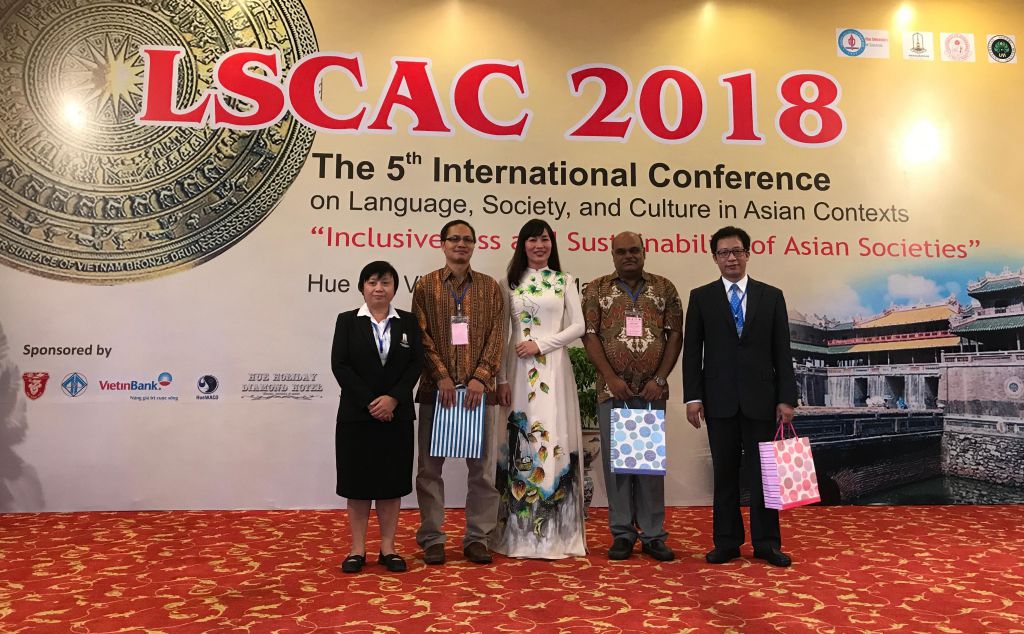 Dr.Do Thi Xuan Dung, Vice President of Hue University, presenting souvenirs to co-organizers of the conference.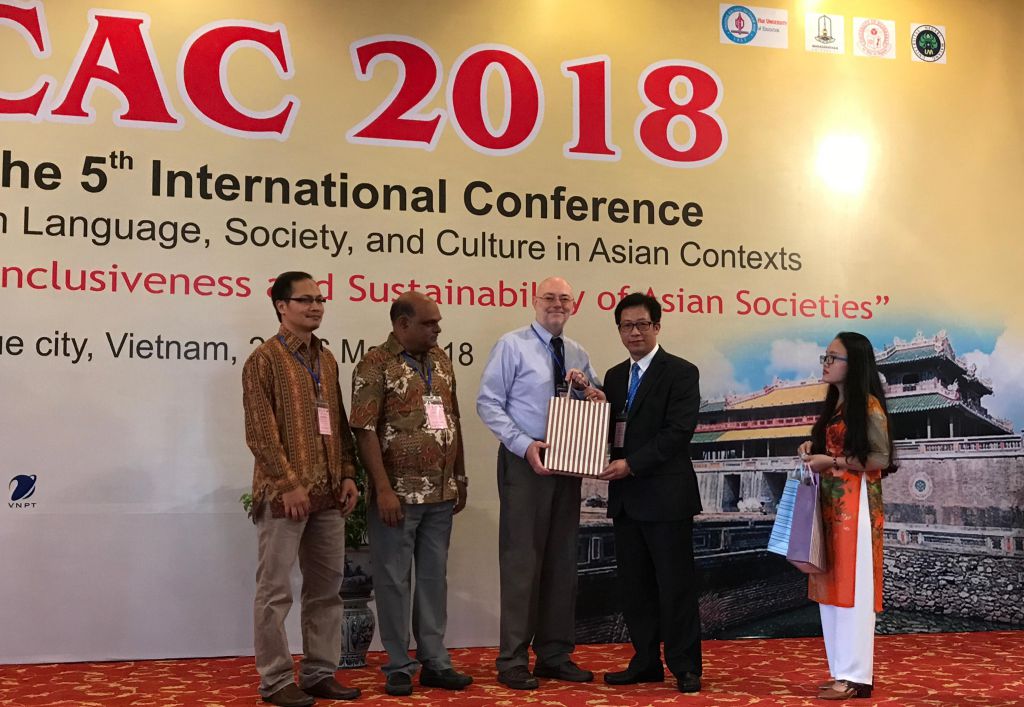 Assoc.Prof.Dr.Le Anh Phuong, Rector of University of Education, Hue University presenting souvenirs to keynote speakers of the conference
LSCAC 2018 is sequel to the conferences in Mahasarakham University, Thailand (2010, 2014), University of Hyderabad, India (2012) and Universitas Negeri Malang, Indonesia (2016). The aim of the conference is to explore various aspects of Asian societies from the angle of sustainability and inclusiveness by identifying commonalities and differences in these societies. It also highlights the implications of such study on the relations among Asian nations. Such studies will ultimately lead to the formation of Asian Union on lines of European Union.
Participating in the conference were leading scientists, researchers from all over the world; representatives of Vietnam Ministry of Education and Training, Vietnam Institute of Literature, Vietnam Academy of Social Sciences; managers of Mahasarakham University (Thailand), University of Hyderabad (India) and Universitas Negeri Malang (Indonesia); nearly 100 international participants from 12 countries; more than 160 domestic participants.
More than 120 scientific papers were selected. 80 out of the 120 papers were selected to present at 25 sessions. 40 out of the 120 papers were selected to present at poster sessions. The main topics of the conference included Social Structure of Asian Societies; Cultural and Linguistic dimensions; Globalization and ingenious communities in Asian context; Modern philosophical trends; Religion and modern Asian societies; Modern Asian Literatures; Education in Asia; Technology enabled Pedagogy; Economies of Asian Countries; Bi-lateral and Multi-lateral relations among Asian Countries; Future of Asia; Environment and Population in Asia; Climate change in Asia; Asia and its integration process; Foreign Language Teaching in Asian Context; Tourism in Asia; The process of urbanization and industrialization in Southeast Asia; History of Southeast Asian.
The 3 keynote speakers are professors from prestigious universities in the United States, India, Indonesia. Prof. Dr. Ted Morrissey is Ph.D in English studies from Illinois State University, is the author of two works of scholarship and seven works of fiction. His report is on Locating Our Common Humanity through Expressive Writing. Prof.Dr.Yazid Basthomi holds an M.A. (Applied Linguistics) from Curtin University and Dr. (ELT) from Universitas Negeri Malang. Currently, he is a Convener of RoLing (Research Group on Linguistics), Department of English, Universitas Negeri Malang, . Prof. Dr. J. Prabhakara Rao is Professor of Linguistics; Director, E-Learning Centre; Head, Centre for Study of Foreign Languages; Faculty Coordinator, India-EU E-QUAL Project; School of Humanities, University of Hyderabad, INDIA; His speech is on ASEAN and India Academic Collaboration: Prospects and challenges.
In addition, there were scientific activities on the sidelines of the conference, such as Discussion on how to educate and work with students with special needs (Autism spectrum disorder) by Prof. Mellissa Melissa Underwood Morissey from the University of Illinoise, Springfiel, USA; Meetings; Bilateral and multilateral scientific cooperation signing.
LSCAC has become a leading international forum for researchers, lecturers, scientific managers, and educators to meet, discuss findings, introduce useful scientific researches, unique ideas and outstanding applications in the fields of architecture, economics, politics and social sciences, education, environment, etc. LSCAC 2018 is the occasion to connect lecturers and scientists from national and international universities and research institutions, to promote scientific development, is the place to discuss, announce research results, sign cooperation agreements on lecturers and students mobility, which promotes cooperative relationships among educational institutions in the region and in the world.