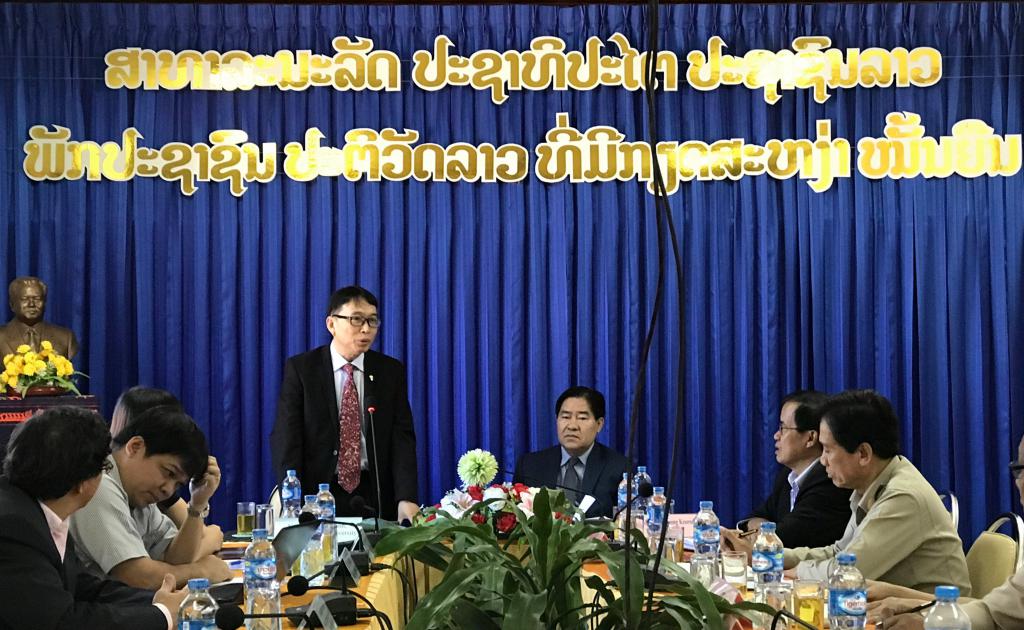 With an aim to carry out the mission of training high-level professionals for Lao PDR and put in to effect the agreement between HU and SKU within the framework of the MoU signed in 2014, on the basis of the letter of invitation dated 10 of January, 2018 from SKU President, HU delegation led by A/Prof Dr. Nguyen Quang Linh, President, paid a visit to SKU campus in Savannakhet, Lao PDR from 21 to 23, January, 2018.
Joining President Nguyen Quang Linh in this visit were Dr. Do Thi Xuan Dung, Vice President of HU; Professor Chen Chia Chu, Honorary Professor of HU from National Cheng Kung University, Taiwan; A/Prof Vo Thanh Tung, Vice Rector of HU-University of Sciences; Mr. Tran Dang Huy, Director of Finance Department; Dr. Nguyen Van Huy, Deputy Director of International Cooperation Department and Ms. Nguyen Thi Kim Xoa, Deputy Head of Science, Technology, Research and Academic Affair Office, Hue University-Quang Tri branch. Welcoming HU delegation were SKU President Bounpong Keorodom, Vice President Sitha Khemmarath, Vice President Dr. Bounheuang Ninchaleune, and many teaching and administrative staff from SKU.
During an intensive discussion between the two sides, there were many ideas and proposals to promote the cooperation between the two universities in terms of post-graduate training and research initiatives. The two universities agreed to conduct immediately in the year 2018 the recruitment and teaching plan for Master degree program in Information Technology and Environment Science, to be enrolled and run at SKU campus. The success of this program will be the premise to implement other joint training programs on Food Safety, Environment Science, Tourism Management and Travel Service, Animal Science, Forestry, and Electronic Engineering in the years to come.
At the end of the discussion, the two presidents signed a minute of meeting that specified the details related to the implementation of the joint programs between SKU and HU such as curriculum content, student quota, degree issuance, mode of learning, language of instruction, teaching staff, financial management, funding, enrolment requirements, etc. It is expected that with such detailed discussion, HU and SKU can start to realize the effort of getting Lao students to enroll in high-qualified Master training programs offered by HU.
Reported by Nguyen Van Huy