Tin tức
Opening ceremony of the academic year 2021 - 2022
-
20/10/2021
On October 15, 2021, Hue University celebrated the opening ceremony of the academic year 2021-2022 directly and virtually for the School of Tourism and Hospitality, School of Physical Education, International School, School of Engineering and Technology, and Hue University Quang Tri Branch.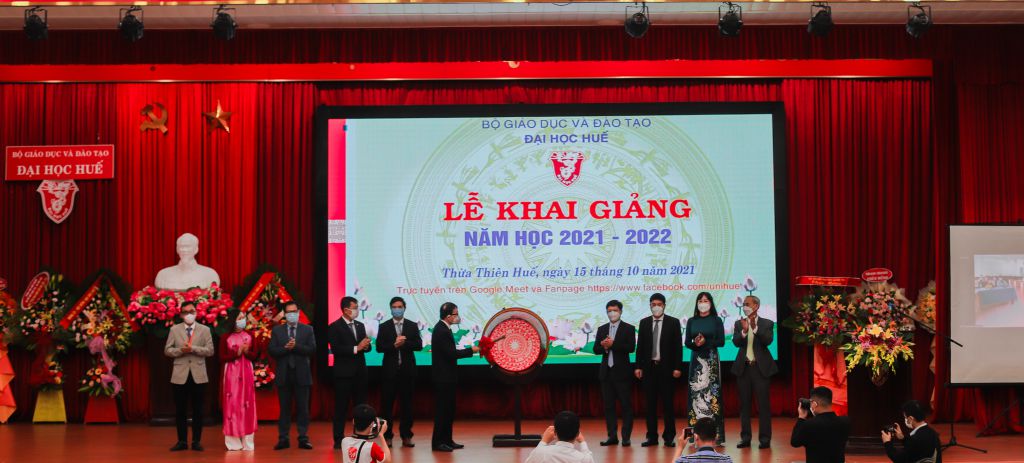 Attending the opening ceremony were Mr. Nguyen Thanh Binh, the Member of the Standing Committee of the Provincial Party Committee, Vice Chairman of People's Committee of Thua Thien Hue province; representatives of departments of Thua Thien Hue Province; Assoc. Prof. Dr. Huynh Van Chuong, Secretary of the Party Committee, Chairman of Hue University Council; Assoc. Prof. Dr. Nguyen Quang Linh, the Member of the Party Committee, Hue University President; Hue University Vice Presidents; Assoc. Prof. Dr. Le Anh Phuong, Deputy Secretary of Hue University Party Committee; and representatives of Hue University.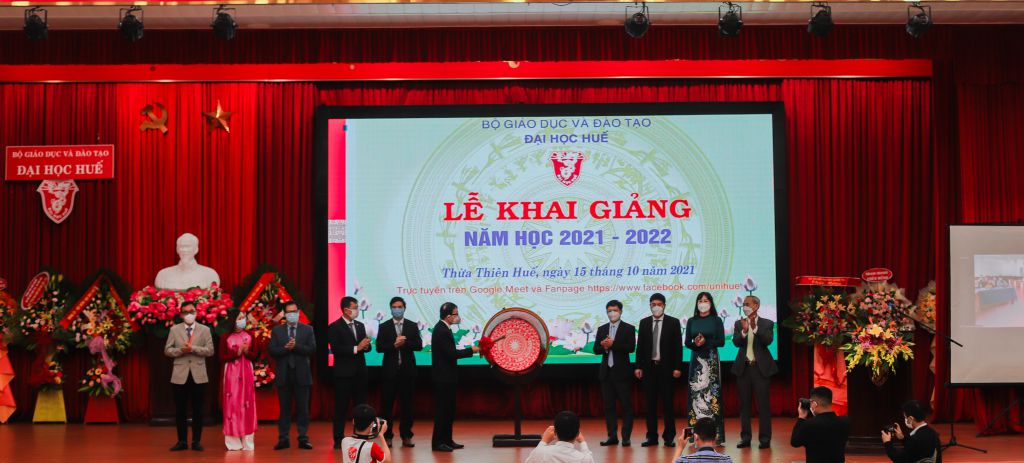 Assoc. Prof. Dr. Nguyen Quang Linh, President of Hue University bet the drum to open the new school year 2021 - 2022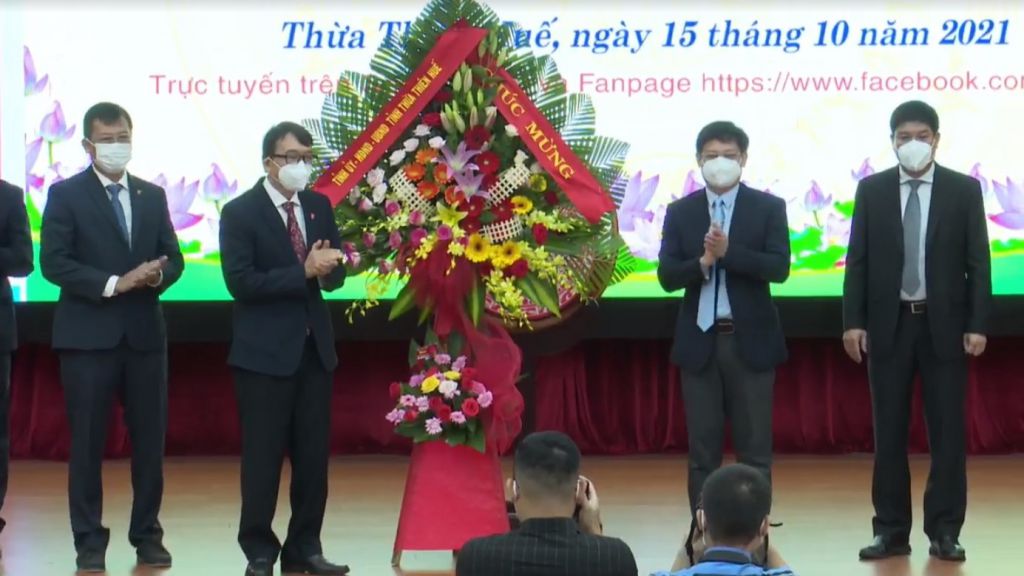 Mr. Nguyen Thanh Binh, Vice Chairman of Thua Thien Hue Provincial People's Committee presented flowers to Hue University
he enrollment of Hue University in 2020 was 9,911 undergraduate students, 2,180 graduate students at a rate of 101%; 28 Ph.D. students achieving 19.71%. In 2021, Hue University enrolls 12,900 undergraduate students; 1,900 graduate students and 39 PhD students. Moreover, in 2020, Hue University had dual enrollment programs with other localities and enrolled 8,158 candidates reaching 101.39% of the target.
Assoc. Prof. Dr. Nguyen Quang Linh, President of Hue University awarded certificates of merit to students who earned medals in national exams for the academic year 2020 - 2021 and valedictorians of the School of Tourism and Hospitality and other Schools of Hue University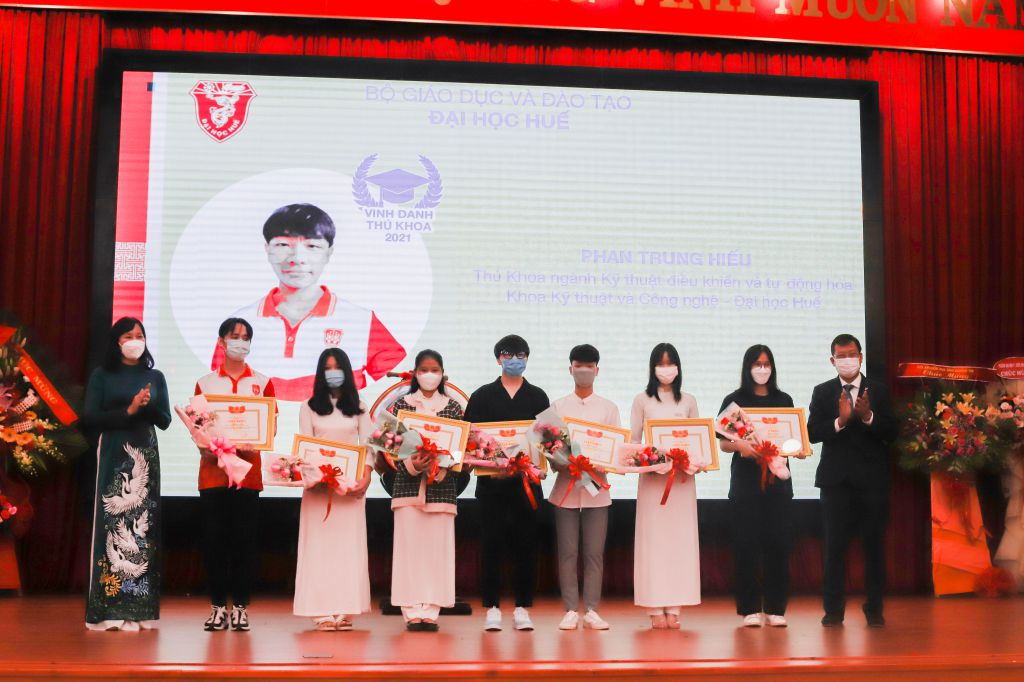 Dr. Truong Quy Tung and Dr. Do Thi Xuan Dung, Vice Presidents of Hue University awarded certificates to students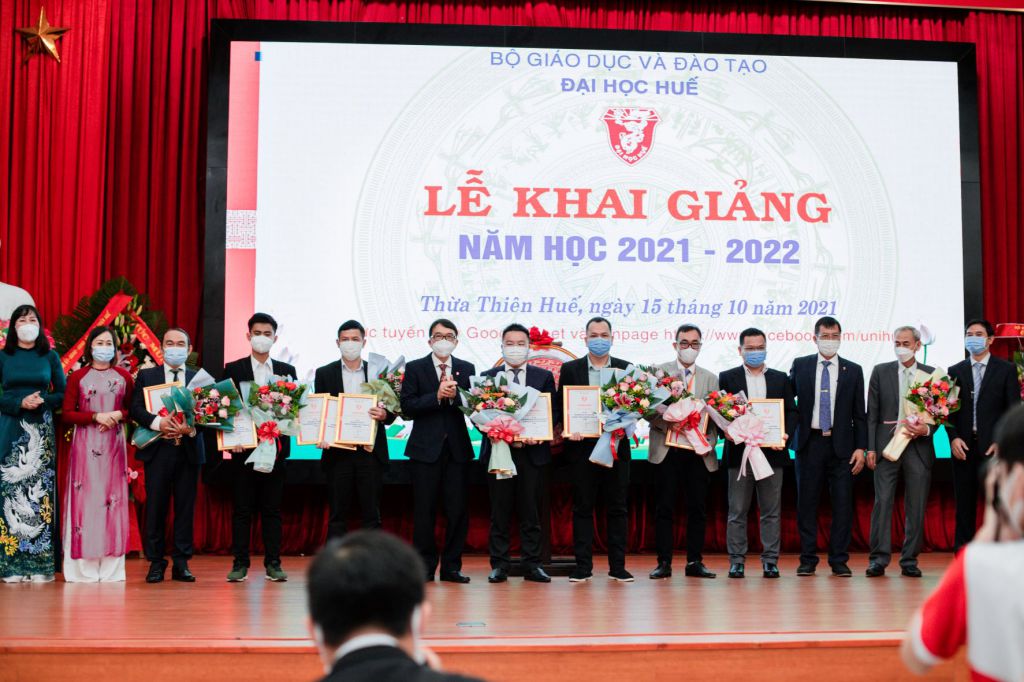 President of Hue University awarded scholarship certificates
Student performance by School of Tourism and Hospitality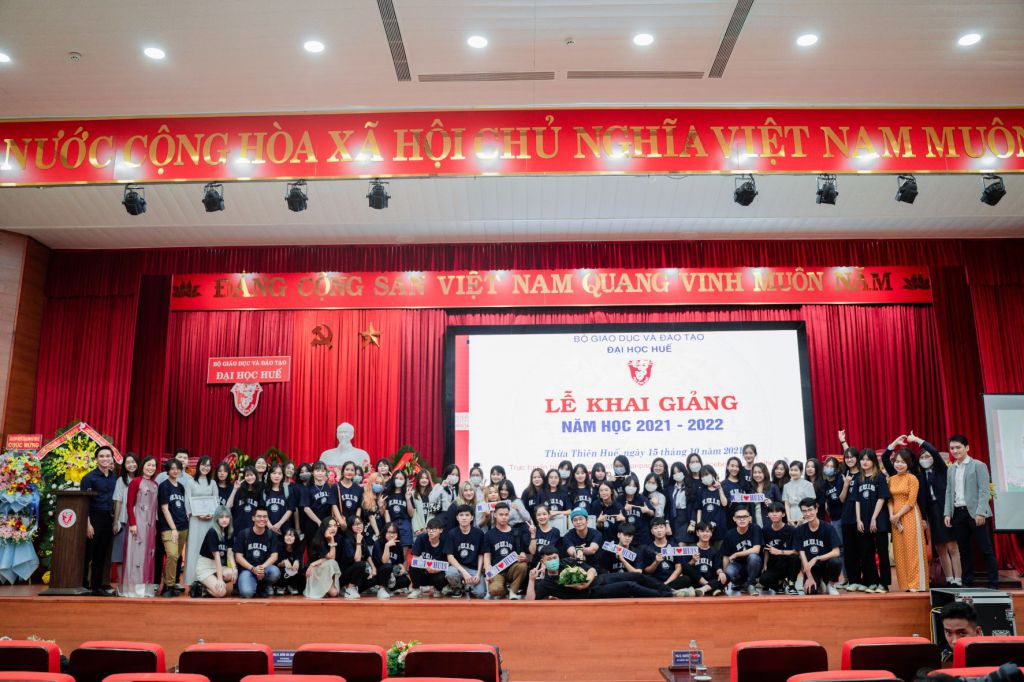 Students of International School
Students of School of Technology and Engineering
Translated: Department of Science, Technology and International Relations, Hue University
hoangthienan
---
Các tin khác

Hue University students with Hueuni Energy Efficiency Innovation Contest for Lecturers and Students 2021
(20/10/2021)

Changing the deployment mode of activities and boosting up the innovative spirit of the Hue University Youth
(20/10/2021)

The University of Education, Hue University: Developing online learning activities
(08/10/2021)

The fourth volunteer group from University of Medicine and Pharmacy, Hue University provided community health care for people in Binh Tan District
(30/09/2021)

School of Engineering and Technology: ROBOT for COVID-19 prevention
(30/09/2021)

Binh Duong Province thanked the delegation of University of Medicine and Pharmacy, Hue University
(30/09/2021)

Uncle Ho Fine Art Exhibition – The Crystallization of National soul
(30/09/2021)

Handing over Robot HUET02 to Thua Thien Hue Military Headquarter
(30/09/2021)

75 medical staff and students of University of Medicine and Pharmacy, Hue University volunteer to take part in COVID-19 epidemic prevention and control in Ho Chi Minh City
(23/08/2021)

International Programme Information Sheet
(13/08/2020)