Hội nghị/Hội thảo quốc tế
The 7th International Conference on Educational Reform 2014 (ICER 2014)
-
09/06/2014
On the morning of March 15, 2014, the conference on 7th International Conference on Educational Reform 2014 (ICER 7), "Innovations and Good Practices in Education: Global Perspectives" was organized at Huong Giang Hotel, Hue City by Hue University College of Education and Mahasharakham University, Thailand.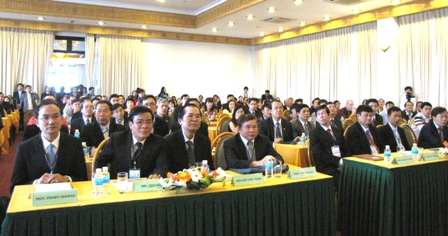 The opening ceremony had the participation of Professor Bui Van Ga, Deputy Minister of Ministry of Education and Training, Mr Ngo Hoa, Vice Chairman of People's Committee of Thua Thien Hue Province, Assoc. Prof. Nguyen Van Toan, President of Hue University, and more than 300 educators from Thailands, Laos, Indonesia, Cambodia, Myanmar, the Philippines, the U.S., South Africa and Vietnam.
The conference focused on the following major themes: educational management and development, educational innovation and applied information technology, teaching and learning programs, education for different target groups.
The conference was an opportunity for international educators to exchange ideas, views and experiences to promote the national education reform. It would help broaden networks, establish new partnerships and strengthen relationships with universities in the region. Also, it was an opportunity for staff and lecturers of Hue University College of Education to exchange research results in improving professional skills and promoting the image of the college to international friends.
ofic
---
Các tin khác

Kick-off meeting of CCP_Law project (Curriculum development on Climate Change Policy and Law)
(27/08/2021)

Tournesol team, Hue Univeristy won the third prize at Start-up Francophone 2018
(09/10/2018)

Workshop on Water Resource Management
(05/09/2014)

Hội nghị Quốc tế về Đổi mới Giáo dục lần thứ 7 (ICER 7)
(09/06/2014)

Workshop on Promoting Cooperation in Education between Vietnam and Japan 2013
(08/10/2013)

Hội thảo "Xúc tiến Hợp tác Giáo dục Việt Nam – Nhật Bản năm 2013"
(08/10/2013)

TRIỄN LÃM GIÁO DỤC NHẬT BẢN G30 NĂM 2013
(26/08/2013)

The Kick-off Ceremony of the VLIR-IUC Programme with Hue University
(18/06/2013)

7th International KES Conference on Agents and Multi-agent Systems - Technologies and Applications
(12/07/2012)

Hội thảo giới thiệu về các hướng nghiên cứu sản xuất vaccine dựa vào thực vật
(14/03/2011)