Hội nghị/Hội thảo quốc tế
Workshop on Water Resource Management
-
05/09/2014
In the framework of the VLIR- NSS (North- South- South) project, Hue University hosted a training workshop themed "Integrated monitoring and assessment of water resources" from August 25- 27, 2014.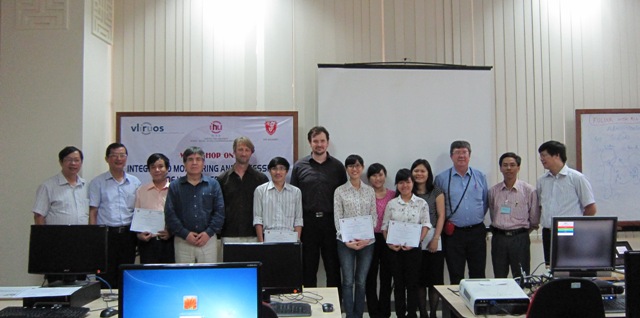 Prof. Peter Goethals (Ghent University) was the principal lecturer of the workshop, with the attendance of three Ecuadorian experts as well as lecturers and researchers from Can Tho University, Ha Noi University of Agriculture and Hue University.
The training workshop featured the theory and practice of integrated monitoring and assessment of water resources as well as the development and application of ecological models. There was also a field visit on August 26 for the chemical, biological and hydromorphological monitoring and assessment of Huong river basin.
In his closing remarks, Dr. Truong Quy Tung showed his gladness about the workshop's success and highly appreciated the extensive knowledge shared by Prof. Peter Goethals. He also conveyed Hue University's willingness to host another Workshop in the time to come.
ofic
---
Các tin khác

Kick-off meeting of CCP_Law project (Curriculum development on Climate Change Policy and Law)
(27/08/2021)

Tournesol team, Hue Univeristy won the third prize at Start-up Francophone 2018
(09/10/2018)

The 7th International Conference on Educational Reform 2014 (ICER 2014)
(09/06/2014)

Hội nghị Quốc tế về Đổi mới Giáo dục lần thứ 7 (ICER 7)
(09/06/2014)

Workshop on Promoting Cooperation in Education between Vietnam and Japan 2013
(08/10/2013)

Hội thảo "Xúc tiến Hợp tác Giáo dục Việt Nam – Nhật Bản năm 2013"
(08/10/2013)

TRIỄN LÃM GIÁO DỤC NHẬT BẢN G30 NĂM 2013
(26/08/2013)

The Kick-off Ceremony of the VLIR-IUC Programme with Hue University
(18/06/2013)

7th International KES Conference on Agents and Multi-agent Systems - Technologies and Applications
(12/07/2012)

Hội thảo giới thiệu về các hướng nghiên cứu sản xuất vaccine dựa vào thực vật
(14/03/2011)