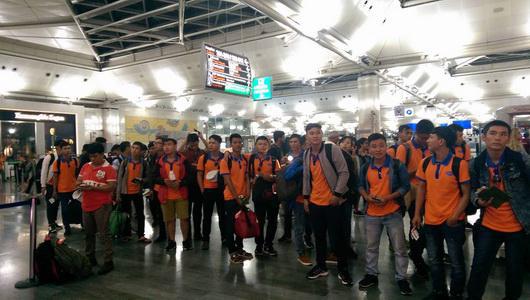 For students to improve knowledge and practical skills of high-tech agriculture, to get familiar with modern agricultural technology and techniques and at the same time, to gain experience and to have internship opportunities abroad, the University of Agriculture and Forestry worked with OLECO (a unit under MARD, assigned by Vietnam Government to send students to go internship in Israel) to implement this program in 2017.
When participating in this internship program, students are not only well paid, but also have opportunities to to gain knowledge about hi-tech agriculture and hi-tech agricultural production management at universities, institutes and high-tech agricultural research centers in Israel. More specifically, the new knowledge can be in: Plant Physiology - Physiology, Land-Biological creatures-Water Relations, Business Plan, Business-Maketing, Breeding Techniques, Mechanics, Planting techniques, Water quality management, irrigation, irrigation and automation engineering, typical flower and fruit production, aquaculture, culture techniques, financial analysis in Agriculture, etc. In addition, students will have opportunities to participate in life skills training programs and community workshops to improve understanding of modern agricultural production management model.
At the end of their internship in Israel, the students will be granted certificates of high-tech agricultural internship; the students' research and internships reports in Israel will be evaluated and given credits by the University. After returning home, the students will continue to study at the University to complete the training program and receive diplomas.
This cooperation program is accordance with the University's strategy and curriculum to to help its students approach modern agriculture and to equip them with nessesary knowledge and skills of setting up their own business later.
Continuing this program, in the following years, the University will further increase the number and diversity of participants; Other students in the fields of food processing, mechanical engineering, mechatronics, biotechnology, etc. can join the program.
Translated by Thanh Huong