On 14/11/2018, Vice President Do Thi Xuan Dung of Hue University had a working meeting with the delegate from US Consulate in Ho Chi Minh City led by Mr. Matthew Alexander Ference - Culture, Information and Education attaché, and 2 other members including Ms. Vu Nguyen Minh Phuong, Director of American Center; Ms. Quach Thi My Ngoc, senior education consultant.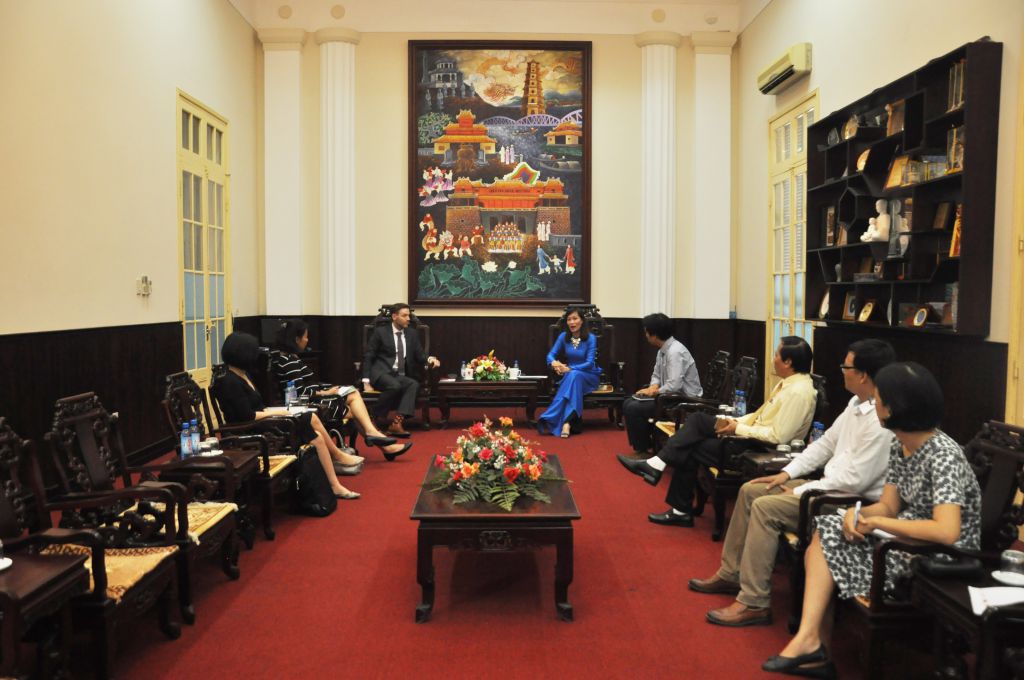 Mr. Matthew Alexander Ference recounted successful collaborative activities between US Consulate in HCMC with Hue University in the past and said that being the newly appointed attaché for Culture-Information-Education, in his next 3 years in office he would promote cooperation with Hue University. He stated that there would be many opportunities for cooperation between American and Vietnamese universities and research institutes. Mr. Matthew Alexander Ference invited Hue University to attend the US Consulate in HCMC's networking events in the coming time.
HU Vice President Do Thi Xuan Dung highly appreciated the success of Hue University's cooperation activities with the US Consulate in HCMC and noted that the potential for cooperation between the two sides was great when Hue University is a multidisciplinary university with 8 member universities and 2 affiliated schools. There will certainly be many cooperative fields and activities with US partners. The HU Vice President requested the US Consulate continue to introduce and support the connection between Hue University and US universities, research institutes, organizations and businesses in the coming time in the field of promoting education and cultural exchanges, especially student and scholar exchange programs.
During the trip to Hue, the US Consulate in Ho Chi Minh City will carry out a number of activities with Hue University students, including the Seminar on Communication Skills and Information Technology for economically disadvantaged students, Youth Development Workshop, Information session "America Roadtrip" introducing scholarships, training job-seeking skills, etc.