Ký kết hợp tác
Hue University entered a cooperation agreement with Ubon Ratchathani Rajabhat University, Thailand
-
24/02/2016
On 18 February 19, 2016, at Hue University, Associate Prof. Dr. Nguyen Van Toan, President of Hue University and Associate Prof. Prachoom Pongpan, President of Ubon Ratchathani Rajabhat University (UBRU) signed a cooperation memorandum.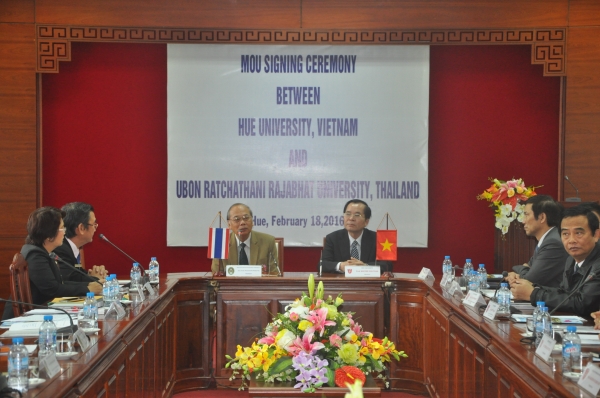 Ubon Ratchathani Rajabhat University was founded in 1915, thus already has a 100-year development history. The university has 13 faculties with a total number of more than 20 thousand students majored in Agriculture, Pedagogy, Engineering and Technology, Business management and Organization, Sociology and Humanities, Natural Sciences, Traditional Medical Doctor and Health, Laws, Nursing, Public health, and Informatics. The university currently has 82 undergraduate, master and doctoral programs.
In 2007, Ubon Ratchathani Rajabhat University entered a cooperation agreement with College of foreign languages – Hue University. Since then, the two institutions have continuously realized many joint exchange and cooperation activities. This time, Hue University and Ubon Ratchathani Rajabhat University continued discussion and came to a cooperation agreement al university level in the following fields: student and staff exchange; joint staff development programs; academic information and resource exchange; joint researches and other academic exchanges.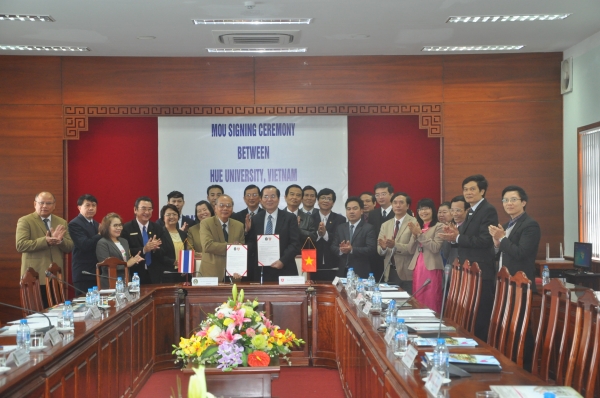 With this agreement, the two universities will launch specific exchange and cooperation activities in the fields of common interest, namely Health, Economics, Laws, Social sciences and Humanities, and Natural sciences.
ofic
---
Các tin khác

The first university holds an online graduation ceremony
(24/08/2021)

TOURIST Project: First expert training workshop at Hue University
(09/10/2018)

Đại học Huế ký kết hợp tác với Trường Đại học Hoàng Gia Ubon Ratchathani, Thái Lan
(24/02/2016)

Hue University, Formosa Ha Tinh Steel Corporation and Ming Chi University of Technology, Taiwan sign a student exchange contract
(11/12/2015)

Đại học Huế ký kết Hợp đồng trao đổi sinh viên với Công ty TNHH Gang thép Hưng Nghiệp FORMOSA Hà Tĩnh và Trường Đại học Khoa học Kỹ thuật Minh Chí, Đài Loan
(11/12/2015)

MOU signing with Sakon Nakhon Rajabhat, Thailand
(21/07/2014)

Ký kết hợp tác với Trường ĐH Sakon Nakhon Rajabhat, Thái Lan
(21/07/2014)

MOU signing ceremony between Hue University and Savannakhet University, Laos
(09/06/2014)

MOU Signing Ceremony between Hue University and Nan Jeon University of Science and Technology, Taiwan
(17/02/2014)

Đại học Huế ký kết hợp tác với Đại học Công nghệ Nan Jeon, Đài Loan
(17/02/2014)