On March 13 and 14, a delegation of Dublin Institute of Technology (DIT) led by Prof. Mary NcNamara, Head of the Graduate Research School came to Hue University to participate in the workshop on writing joint training programmes within VIBE project "Design and develop joint training programmes in Food Safety, Environmental Health and Tourism Management between Hue University and Dublin Institute of Technology" funded by Irish Aid - the Government of Ireland's official agency for international development.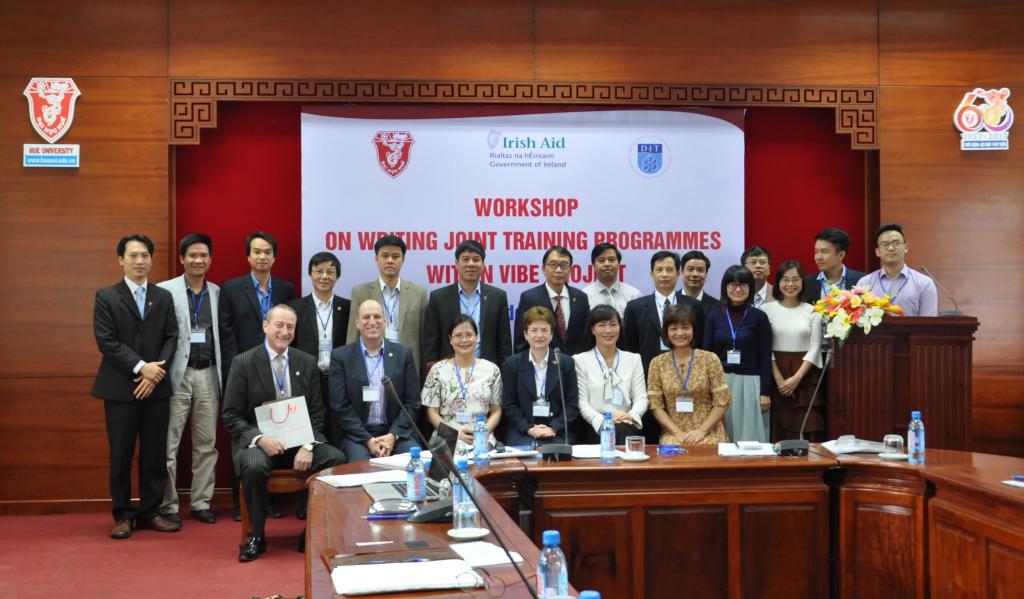 The VIBE Project's three goals are (1) Design curriculum: Establishing 03 joint training programmes (2 Master's degree; 1 Bachelor's degree); (2) Implement curriculum: Launching and recruiting students for these programmes; and (3) Evaluate curriculum: Collecting feedback and adjusting the programmes.
Project rationale is that the EU - Vietnam Free Trade Agreement exposing gaps in terms of knowledge and skills in the area of food safety, environment, tourism could be bridged by the proposed programmes; The project is an initiative to pool resources to attract qualified undergraduate and graduate students in Vietnam and provide them with advanced training. HU and DIT is willing to cooperate to make full use of each others' expertise, experience and resources.
The detailed activities of the project would be Set up project governance and management structure; Set up information dissemination channel and online tools for the projects; Explore the feasibility of the programmes; Develop and design curriculum; Implement curriculum; Enrich students' learning experience; Evaluate curriculum; And Promote project results.
After two days, the two sides reached a number of important agreements and pledged to continue discussing via email.