On the morning of March 6 in Hanoi, Assoc.Prof.Dr. Dinh Thi Bich Lan, senior lecturer of Hue University, was presented the Kovalevskaia Award 2017, which is a prestigious national award for female scientists. Assoc.Prof.Dr. Dinh Thi Bich Lan was one of the two outstanding Vietnamese female scientists awarded the award.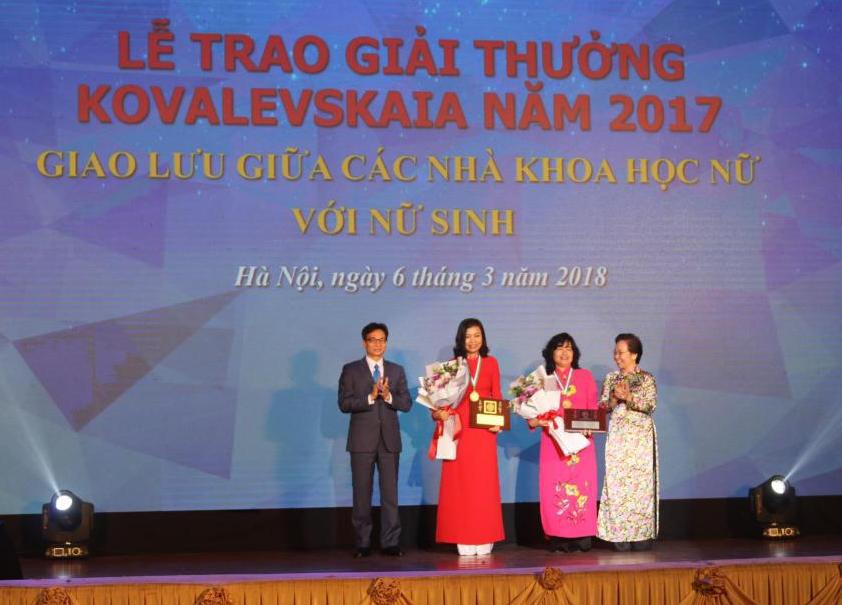 Deputy Prime Minister Vu Duc Dam and Prof.Dr. Nguyen Thi Doan, former Vice President of Vietnam, President of Vietnam Study Encouragement Association, President of Kovalevskaia Award Committee presented the awards to the two outstanding female scientists.
Previously, on March 2, the Vietnam Women's Union announced two female scientists winning the Kovalevskaia 2017 award are Assoc.Prof.Dr. Dinh Thi Bich Lan - Senior Lecturer, Institute of Biotechnology - Hue University and Assoc.Prof. Tran Van Khanh, MD - Dean, Faculty of Medical Technology, Deputy Director of Center for Gene and Protein Research - Hanoi Medical University.
Assoc.Prof.Dr. Dinh Thi Bich Lan, born in 1960, is the author of a number of research projects that produce highly applicable high-tech products such as recombinant antigens, fast diagnostic kits, recombinant vaccines, biological preparations containing egg yolk antibodies or hybrid pigs.