Speaking at the workshop, Prof. Dr. Bui Van Ga, Deputy Prime Minister of Ministry of Education and Training reaffirmed that the Party and the State always pays special attention to the development of education and training, science and technology; Consider this as a foundation, driving force for the country's industrialization and international integration. Resolution No. 20 on the development of science and technology to serve the cause of industrialization and modernization in the context of socialist-oriented market economy and international integration. Resolution No. 29 on the comprehensive and basic reform of education and training with the focus on the importance of scientific and technological implementation and transfer in universities: scientific research is one of the main tasks of the universities to serve the improvement of training quality, technological innovation, and the country's competitiveness. In the context of the rapid development of the 4th scientific and technological revolution, universities have to continue to innovate programs and teaching methods, strengthen scientific research capacity for generations of outstanding students who can adapt well to new conditions.
Prof. Dr. Bui Van Ga highlighted the points to be discussed at the workshop: measures to improve the quality and effectiveness of research and technological transfer and applications in institutions of higher education; increase of funding from various sources for science and technology in higher education institutions; special mechanisms to develop a number of universities to become national centers of technology transfer; measures to encourage instructors to do scientific research, technology transfer, build team of instructors and researchers to develop the sectors which the country has favorable conditions; mechanisms and policies to attract foreign experts, overseas Vietnamese to participate in scientific research, technology transfer and training in universities and research institutes.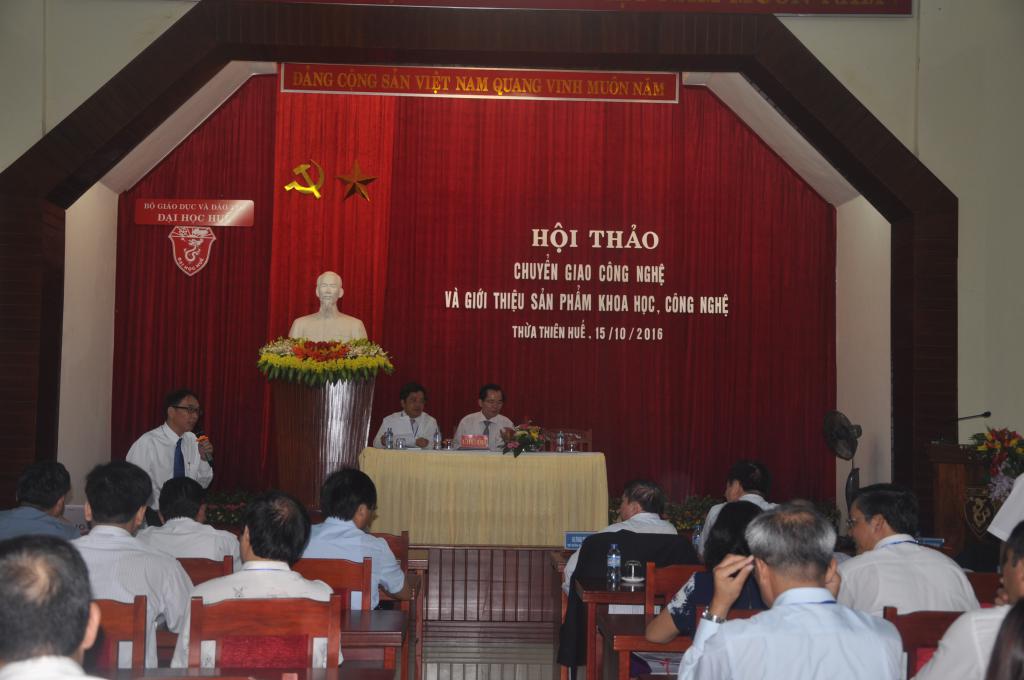 At the workshop, Hue University, Thai Nguyen University and Can Tho University had presentations summarizing their activities of technology transfer and commercialization of technological and scientific products. The universities directly under the Ministry had presentations on accelerating scientific research and technology transfer as well as linkage with local communities, enterprises in applying research results in production.
Assoc. Prof. Dr. Nguyễn Văn Toàn, President of Hue University at a technology transfer signing ceremony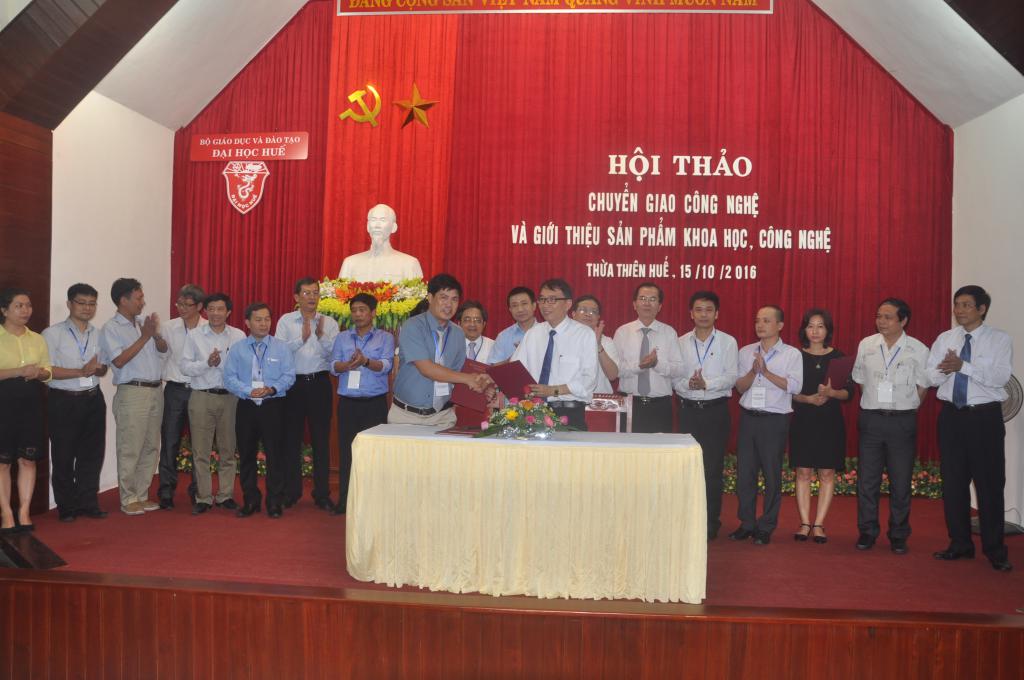 Assoc. Prof. Dr. Nguyễn Quang Linh, Vice President of Hue University at a technology transfer signing ceremony
At the workshop, there were 3 science and technology transfer contracts signed between Hue University and Quang Phu Communal People's Committee (Quang Dien District, Thua Thien Hue Province), HaNoi Peter Hand Animal Developing Co., Ltd, Bac Ninh Science - technology application and Development Co.,Ltd.
The workshop exhibited 90 scientific and technological products in the fields of Social Sciences - Humanities, Natural Sciences - Technique, Tourism, Agriculture - Forestry, Biology – Medicine, etc.
Workshop on technology transfer and introduction of scientific products is an annual event of the Ministry of Education and Training. The workshop is an opportunity for managers and scientists to discuss the emerging issues in science and technology activities in general and technology transfer in particular in the higher education institutions.
Reported by Ai Huu
Translated by Thanh Huong