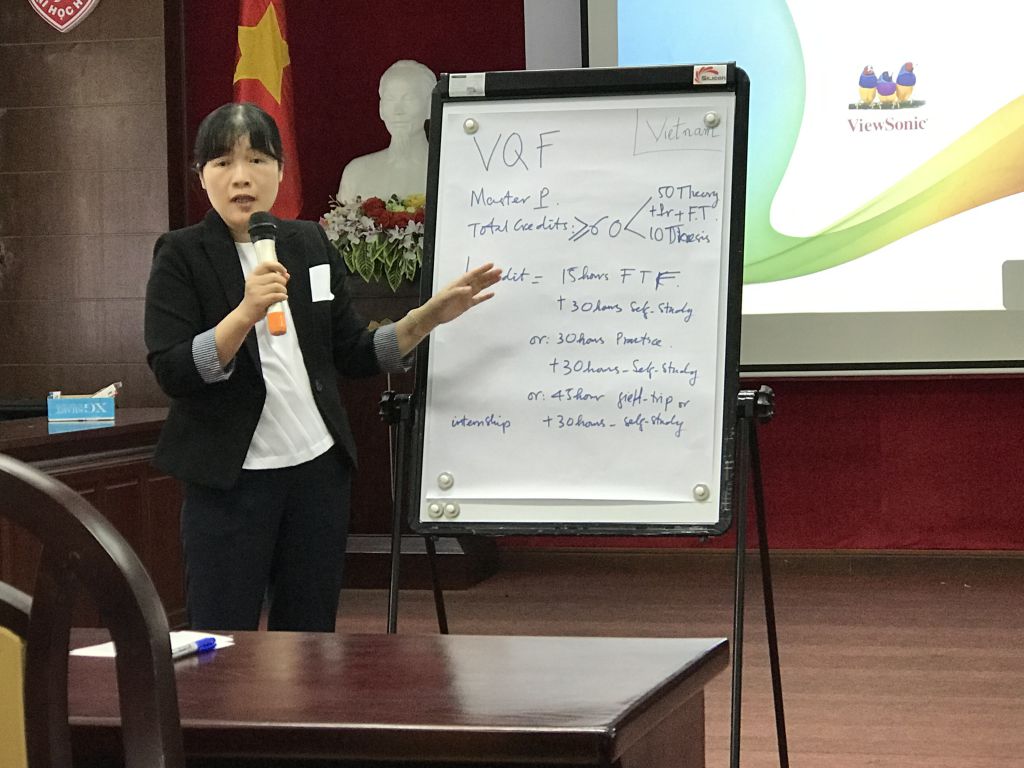 Professor Hoang Thi Thai Hoa, Dean of Faculty of Agronomy, University of Agriculture and Forestry, Hue University at the kick-off meeting of CDAE Project organized at Hue University in February 2020.
Reporter: Through the research results, could you please tell us the needs of agroecology program to partner countries?
Prof. Hoang Thi Thai Hoa: In recent years, the number of training courses on organic agriculture, sustainable agriculture, and environment has increased in Asian countries. However, there is still a lack of Master's programs that link all these fields to train professionals with relevant knowledge and skills in sustainable development and organic agriculture from food production to the food supply chain. Also, the status of higher education institutions in Vietnam, Philippines, and Sri Lanka has not met the task of addressing environmental, economic, and social issues related to formal approaches to agriculture. Currently, most universities of agriculture still teach unsustainable traditional agricultural methods and technologies related to crop and livestock production. Therefore, this research study has the following objectives: (1) to identify programs that are relevant to the project partner countries and can be extended to a larger region. (2) to identify gaps and academic needs of the project needs; (3) to analyze and report on the appropriate legal framework and program accreditation steps for partner countries/universities.
Reporter: How did the research team conduct the survey?
Prof. Hoang Thi Thai Hoa: The similar survey of Master Programs on Agroecology in Asia focuses on systematizing existing master programs on the fields of sustainable agriculture, organic agriculture, and environment at higher education institutions of partner countries in Asia and Europe (from 8 universities in Vietnam, 1 in Philippines, 8 in Sri Lanka, 3 in Thailand, 3 in India, and 3 in Bangladesh).
The data is collected by experts, educators, and managers in the field of agricultural labor market in Vietnam, Philippines, Srilanka, India, Bangladesh, and Thailand. The results can be summarized as follows:
Among more than 1000 public and private universities in Asia, approximately 100 universities offer agricultural programs (and specifically related to agronomy). In Vietnam, many agricultural universities provide training courses in agronomy and related fields, except the training courses in Agroecology. Overall, there is no higher education institution in Asia offering a master's program in Agroecology. Current programs aim to provide professionals with appropriate methodological and interdisciplinary competencies to meet requirements of related disciplines such as agriculture, agroforestry, ecology, environmental science, and sustainable development. The program length ranges from 1 to 1.5 years for an application-oriented program or from 2 to 3 years for a research program.
Reporter: is it clear that a master's program in agro-ecology is necessary for Vietnam in particular and in partner Asian countries in general?
Prof. Hoang Thi Thai Hoa: After the survey, it shows that it is necessary to have a master's program in Agroecology in Vietnam, and the demand for human resources in agricultural sector is very high. Therefore, it is important to have the renovation in subject contents, methodologies, and training processes to improve the quality of the Master's degree; to enhance the capacity building for lecturers and educational administrators; to promote science and technology development; and to develop the knowledge, skills, and attitudes of graduates.
Reporter: Thank you very much.
Reported: Ai Huu / Translated: Department of Science, Technology and International Relations, Hue University