Mr. Phan Ngoc Tho, Deputy Secretary of the Provincial Party Committee, Chairman of the Provincial People's Committee, Chief of the National Assembly Delegation of Thua Thien Hue province, had a meeting with staff, lecturers, and students at the launch event of the Multimedia Communication organized by International School - Hue University on the afternoon of April 18, 2021.
According to Chairman Phan Ngoc Tho, Hue is the treasure of the Communication industry, which is the massive heritage system.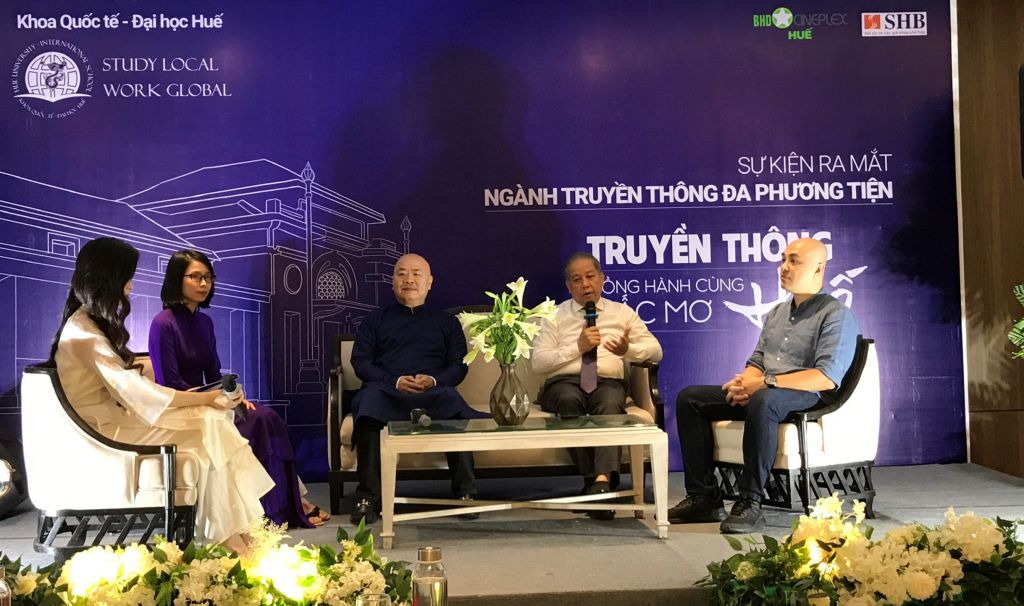 At the meeting, media experts said that it was necessary to develop Multimedia Communication at the International School - Hue University based on the practical needs of society. In the age of information technology, Multimedia Communication, information sharing, and transmission play an important role in promoting socio-economic development. Communication also contributes to enterprise development.
Vietnam has a strong demand for human resources in Multimedia communication. Furthermore, the state management agencies need a Multimedia team, especially in fields such as Journalism, Public relations…
The training of the multimedia team requires quantity and quality. Currently, the training institutions are only concentrated in Northern and Southern Vietnam. In the Central and Central Highlands regions, few institutions offer undergraduate programs in Multimedia communication. Therefore, it is a comparative advantage to open this program at International School – Hue University.
At International School, qualified lecturers who are selected to teach the subjects have master's degrees or higher degrees at domestic and international universities. Assistant lecturers are young enthusiastic and professional staff with English language proficiency.
In addition, the International School has implemented many joint programs and projects in training as well as scientific research with national and international organizations and units such as Northern Kentucky University, USA; IMC University of Applied Sciences Krems, Austria; Pitzer College, USA; Science Po Lille, France. Every year, international experts come to teach and work at the School. They help students learn and exchange advanced knowledge as well as valuable experiences that contribute to improving the professional knowledge and training quality of the School.
Reported: PV / Translated: Department of Science, Technology and International Relations, Hue University