External quality assessment of an educational institution is an important component of SHARE's pilot program. This time, Hue University is the only higher education institution in Vietnam selected, together with 10 other from 8 Southeast Asian countries. The criteria used this time is an entirely new set developed by the SHARE project, including 10 criteria, which are:
1. The institution has primary responsibility for quality;
2. Quality assurance - QA- promotes the balance between institutional autonomy and public accountability;
3. QA is a participatory and cooperative process across all levels incorporating involvement of academic staff, students, and other stakeholders);
4. A quality culture underpins all institutional activities;
5. A structured and functional internal Quality Assurance system with clearly defined responsibilities is established;
6. The quality system is promulgated and supported by the top management to ensure effective implementation and sustainability);
7. Sufficient resources for establishing and maintaining an effective quality system within the institution should be provided;
8. The institution should have formal mechanisms for approval, periodical reviews and monitoring of programmes and awards);
9. Quality is regularly monitored and reviewed for purposes of continuous improvement at all levels;
10. Relevant and current information about the institution, its programmes, achievements, and quality processes is accessible to the public.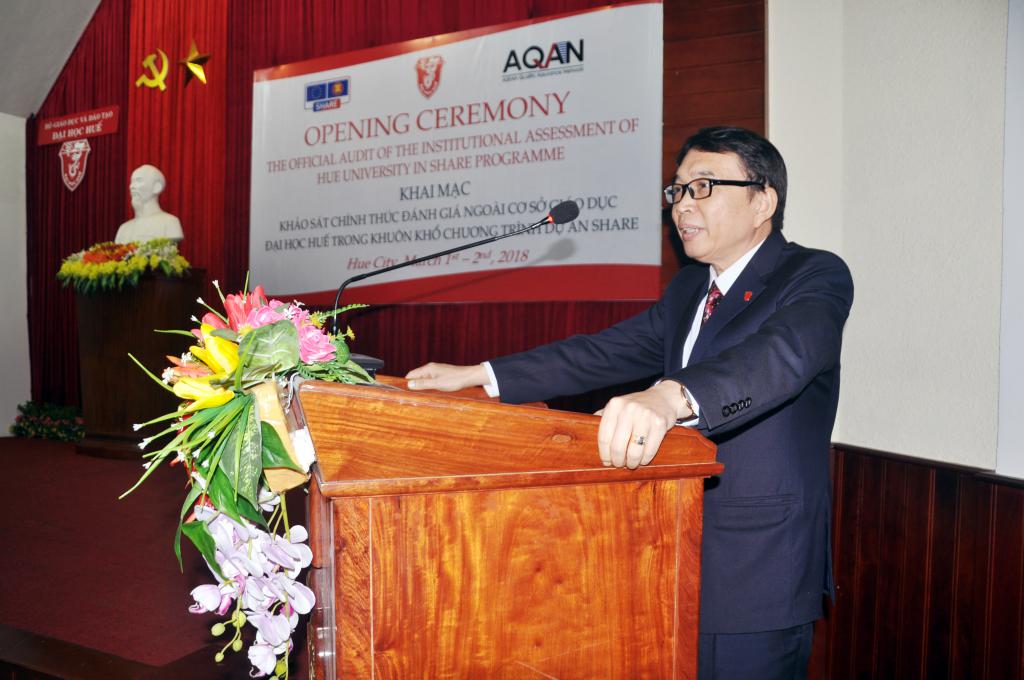 Assoc.Prof. Nguyen Quang Linh, Hue University's President opened the official external assessment of Hue University, stating his opinion of the importance of quality assurance and international integration. Taking part in this assessment, Hue University has the opportunity to discover strengths to promote and weaknesses to overcome in order to improve the quality of training.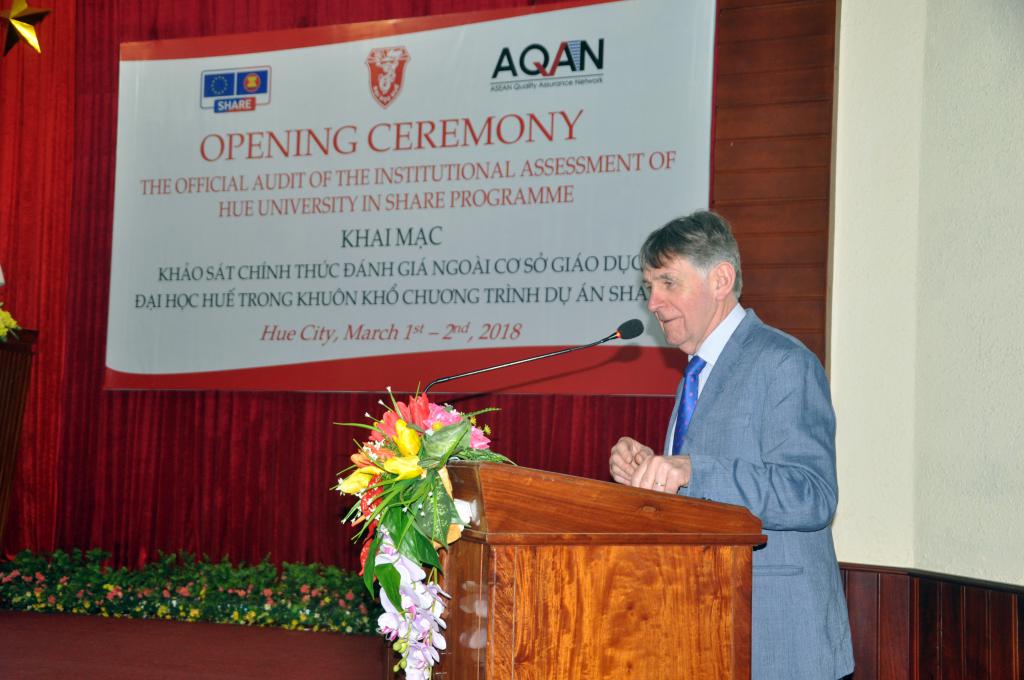 Prof. Jethro Newton from the United Kingdom said that the most important objective of the assessment is to make recommendations based on the 10 SHARE criteria and prepare a formal report in the near future.
Hue University prepared a self-assessment report and submitted it to the Project Office in Jarkata in September 2017. During evaluating the report, the delegation worked continuously with Hue University via e-mail to collect additional information about Hue University and the issues in the self-assessment report. Hue University prepared 10 document boxes corresponding to 10 criteria with nearly 500 items. The assessment team will interview 9 groups namely, Presidential Board, Council, Boards of Rectors of member universities, report preparing group, deans and vice deans of departments, directors of departments, employers and alumni, lecturers, students and leaners.
Through this SHARE's external assessment, Hue University hopes to be popular among Southeast Asia and to approach regional standards and international standards in the field of quality assurance. This move will help Hue University to review and make more drastic improvements to develop and reach excellence.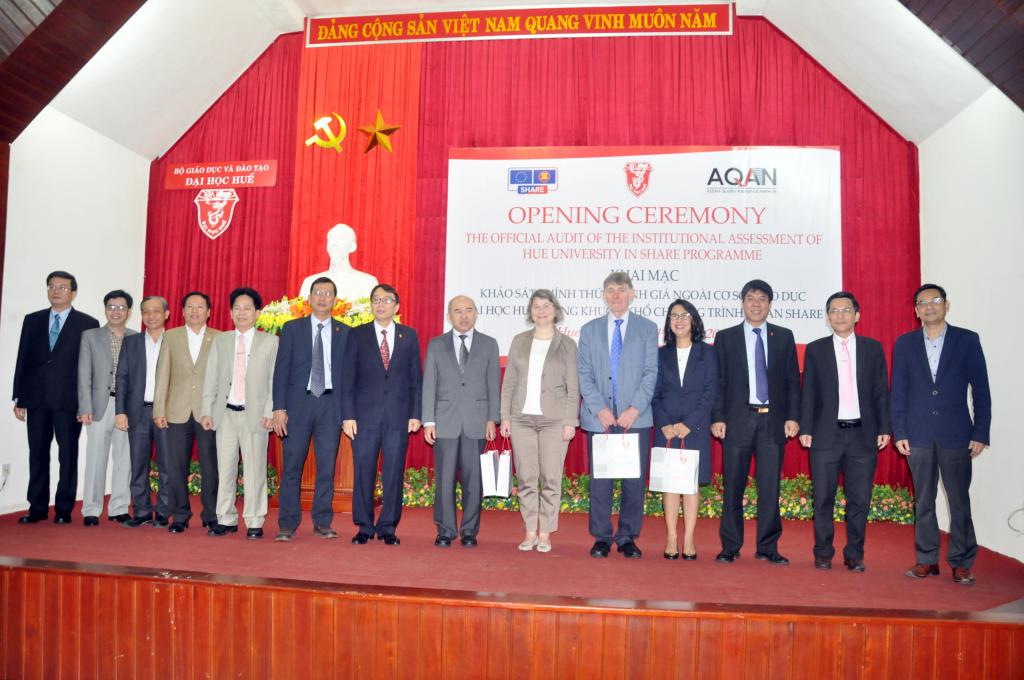 The assessment team and the leadership of Hue University and the member universities joined for souvenir photos
SHARE was launched in May 2015 and will end in 2018. The partners are: British Council, Campus France, DAAD, EP-Nuffic, EUA (European Union Association) and ENQA (European Association for Quality Assurance in Higher Education). Components of the program include: policy dialogue, reference framework for quality and quality assurance of the ASEAN region, ASEAN Credit Transfer System, ASEAN - EU Credit Transfer System, Student mobility scholarship programs.
Thirty ASEAN universities and 10 EU universities participate in the program of which four are from Vietnam: Hanoi National University, Hanoi University of Technology, Ho Chi Minh City University of Technical Education and Hue University.
In the SHARE Program, Hue University participates in the student mobility program, welcomes foreign students and sends students to ASEAN and EU countries for one semester under the credit exchange system. Student mobility between ASEAN countries and between ASEAN and EU play an important role in promoting the integration and internationalization of higher education.
Hue University currently has:
- 8/8 member universities have completed the peer assessment period 2015 to 2021
- 6/8 member universities have been audited at the institutional level in Vietnam period 2017 - 2022
- 02 training programs on AUN-QA self-assessment.