Impressed with Vietnamese culture
Never been to Asia before, Anezka Boyle, a Pitzer student, was so excited to be participating in the Language and Culture Summer Program in Hue. "I love learning Vietnamese. Learning Vietnamese at the beginning was difficult but exciting! Through field trips, I feel that Vietnam is very beautiful and Vietnamese people are friendly." Anezka happily spoke in Vietnamese.
Nat Bentley, a Vietnamese-American student owning a smart and lively face who has a quite good command of Vietnamese language, said: "Joining this program, I learn Vietnamese language and culture everyday. I like the visits to Thien Mu pagoda, the Citadel and Hue City's famous sights, but what I like most are staying with a Vietnamese family, and going out with them to explore Vietnam. The Vietnamese family, whom I am living with is very good to me. That is my strongest impression about this course." Depite of his first time to Hue, Nat said, "I feel like I belong here." That is why Nat decided to stay in Hue for another 6 weeks after the completion of the program so as to learn more about culture and enjoy interesting experiences in Vietnam.
Dr. Michael Ballagh, Associate Vice President, Study Abroad & International Programs at Pitzer College, who is in charge of this year summer program in Hue, talked openly: "Whenever I come to Vietnam, I feel like going home - a very comfortable and pleasant feeling. I love Hanoi but I especially like Hue. Big cities in Vietnam has changed a lot but Hue City has rarely changed over time and I like that."
The summer Vietnamese language and cultural program includes intensive Vietnamese language classes, seminars on Vietnamese culture, field trips and homestays with Vietnamese families. Through this program, Pitzer students can explore a dynamic Vietnam, enhance their Vietnamese language and gain insights into Vietnamese life and culture. Within the framework of the program, the Pitzer students had field trips to other places such as Hochiminh, Hanoi and Ha Long Bay to explore North and South Vietnam.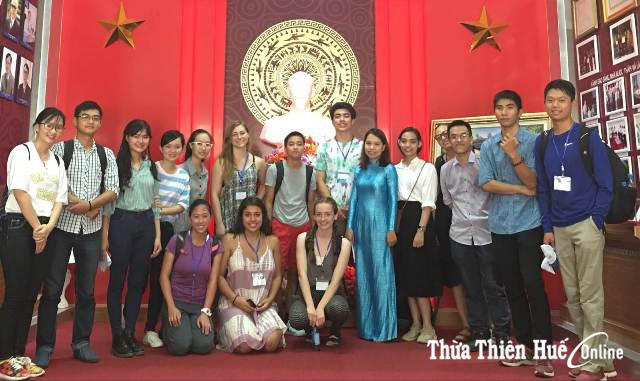 "Hue is the best place to learn Vietnamese culture"
More than 3 years ago, I met Prof.Dr.Huynh Dinh Chien who was the director of Hue University Learning Resource Center. At that time, we discussed cooperation possibilities about student exchange program and lecturer exchange program between Pitzer College and Hue University. Two years later, Pitzer College Vice President - Prof. Nigel Boyle came to Hue to sign a cooperation agreement with Hue University and recently (early June, 2017), Pitzer College President - Prof. Melvin Oliver visited Hue University and Pitzer students in Hue. He was delighted that the cooperation agreement on the Language and Culture Summer Program starting in 2017 has been successfully implemented at Hue University" said Dr. Michael Ballagh.
Pitzer College has cooperation on student exchange program with 6 countries in the world: Costa Rica, Ecuador, Brazil, Nepal, South Africa, Botswana and Vietnam. "We chose Vietnam and chose to cooperate with Hue University because Hue City is beautiful, the environment is clean, the university is very close to the city, it takes 10 minutes to ride to the university and more importantly, here, our students have the best opportunity to stay with Hue families, learn Vietnamese and explore Vietnamese culture." said Dr. Michael Ballagh.
Dr. Michael Ballagh said that in the United States there are many Vietnamese American families who can speak Vietnamese but can not write Vietnamese and want to learn Vietnamese. However, these Vietnamese American families are reluctant to send their children back to Vietnam. I hope the students who attend the first language and culture summer program at Hue University when returning to the US will tell their friends there about Vietnam today. I also hope the younger generations will come to Vietnam to study. Having worked in Vietnam for many years, I find Vietnam has changed a lot. This is a peaceful and safe country for American students to learn and explore culture. The staff of Hue University are very good and have worked hard for the success of this cooperation program."
Following the success of the first language and culture summer program at Hue University, Pitzer College will continue to cooperate with Hue University in staff exchange program, joint research programs in the field of environment, climate change, etc. Pitzer College will also provide scholarships for Hue University students to study at Pitzer University in the future.
Reported by Ngoc Ha, TTH newspaper online
Translated by Thanh Huong