The opening ceremony was attended by Assoc. Prof. Maria Elissa J. Lao and Assoc. Prof. Pakpong Pochanart, the external assessors from the AUN-QA; Assoc. Prof. Dr. Le Anh Phuong, the President of Hue University; Prof. Dr. Nguyen Vu Quoc Huy, the Rector of the University of Medicine and Pharmacy, Hue University; representatives of the leadership of the Hospital of the University of Medicine and Pharmacy, Hue University; departments, faculties, faculty members, students, and other relevant parties involved in the implementation of the assessed Bachelor's Program in Medical Laboratory Science.
The Bachelor's Program in Medical Laboratory Science was developed by referencing teaching programs from domestic and international universities, with the participation of all relevant stakeholders. The program is designed to meet the requirements for building new curriculum according to the regulations of the Ministry of Education and Training. The first intake of students for this program was in 2000, with 34 students. Since then, the program has expanded, admitting approximately 120 to 130 students each year. Over 22 years (2000-2022), many alumni have graduated and are working in both public and private healthcare institutions nationwide. The program has a total of 133 credits, with 30 credits allocated for general knowledge, 21 credits for foundational knowledge in the field, 51 credits for specialized knowledge, and 24 credits for elective courses. The program ensures a balance between theory and practice, with practical training accounting for 45.9% (61 out of 133 credits).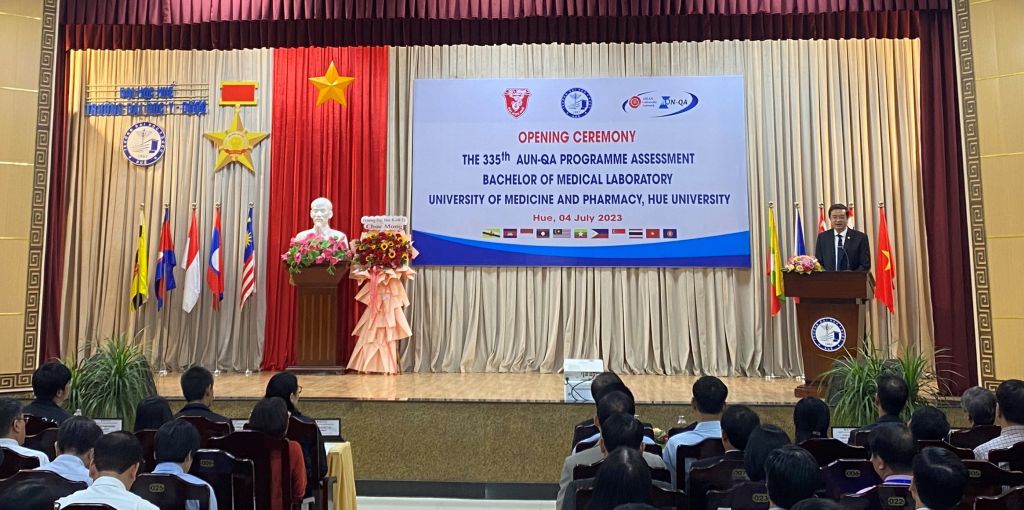 Prof. Dr. Nguyen Vu Quoc Huy - Rector of the University of Medicine and Pharmacy delivered a speech at the ceremony
On behalf of the AUN-QA external evaluation team, TSMaria Elissa J. Lao delivered a speech acknowledging and highly appreciating the efforts of the university in its mission to enhance the quality of higher education in the region and its integration with the world. The AUN-QA Evaluation Team will be working from July 4, 2023, to July 6, 2023, and will engage in various professional activities, including researching documents, reviewing self-assessment reports and accompanying evidence, conducting interviews with relevant stakeholders of the training programs, conducting on-site visits to evaluate the overall conditions of infrastructure, services, training support facilities, scientific research, and student activities. The AUN-QA (ASEAN University Network - Quality Assurance) standards assess the quality of Higher Education Programs (HEPs) and HEIs with the aim of promoting quality assurance, enhancing capacity, competitive effectiveness, sustainable development, and integration among universities in the ASEAN region.
Translated: Department of Science, Technology and International Relations, Hue University