On November 26, 2018, Hue University's President Nguyen Quang Linh, and Finland University's Chairman of Board of Directors Harri Melin signed a cooperation agreement to develop a joint Bachelor's Degree training program in Information Technology for Network Security and Data Science.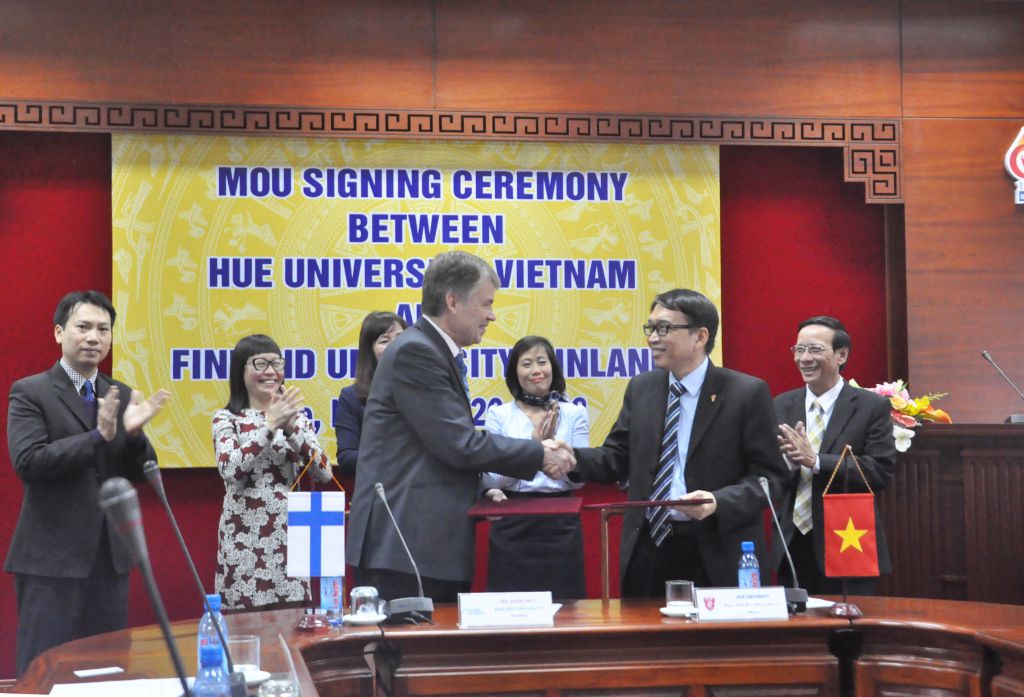 Hue University and Finland University have officially established cooperation for more than a year. Beginning on 28/8/2017, within the framework of a mission to Europe of Vietnam Ministry of Education and Training led by Minister Phung Xuan Nha, in Finland, President Nguyen Quang Linh of Hue University had a working meeting and signed an MOU with Finland University in the presence of the two Ministers of Education of Vietnam and Finland. On 8/11/2017, at Hue University, President Nguyen Quang Linh and Chairman of Directors Board Harri Melin reached an agreement to jointly develop five training programs in the fields of Agro-forestry, Cybersecurity, Big Data, Tourism and Social Work. On March 7, 2018, Mr.Pekka Saavalainen - Finland University's CEO and Hue University's President Nguyen Quang Linh discussed in details the action plan to implement the five training programs. After more than a year of official establishment of partnership, the first detailed agreement on a joint training program has been signed.
HU's President Nguyen Quang Linh delivering a speech at the signing ceremony
Finland University comprises leading Finnish research universities: the universities of Eastern Finland, Tampere, Turku, and Åbo Akademi, each in the top 2% of global university rankings. Together the universities have 78,500 full-time degree students and 900 professors.