On December 7, 2018, Hue University organized a workshop on improving the quality of school sports and developing physical education adopting club model approach. Present at the seminar were Assoc.Prof.Dr.National teacher Vu Duc Thu - Chairperson of Physical Education Committee - Former Head of Physical Education Department, Ministry of Education and Training; Dr.Le Anh Tho - Former Head of Mass Sport Department, General Department of Physical Training and Sports, Ministry of Culture, Sports and Tourism; Dr.Truong Quy Tung, Vice President of Hue University, Chairman of Hue City University and Professional Sports Association.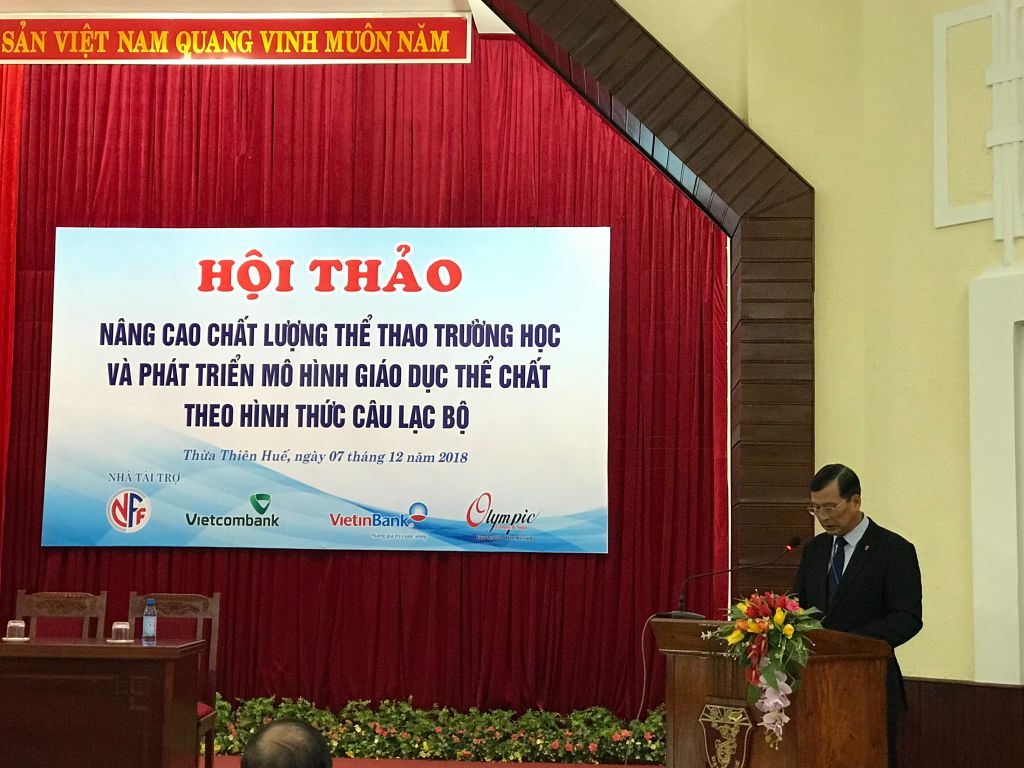 Dr.Truong Quy Tung, Vice President of Hue University, Chairman of Hue City's University and Professional Sports Association, Head of the workshop organizing committee.

Physical education and school sports are important components, the foundation of the country's physical training and sport, contributing to the goal of comprehensive education for students. Circular No.25/2015/TT-BGDDT by Vietnam Minister of Education and Training on curriculum of undergraduate programs clearly defines the objectives of the physical education programs to equip basic knowledge and physical exercise skills, to form physical exercise and sports habits in order to improve health, develop physical strength, physical appearance, improve personality and learning skills, social activities skills, positive attitude, contributing to the implementation of comprehensive educational objectives. In order to achieve the objectives, it is necessary to continue to diversify the formats of school sports activities, to develop sports clubs; to diversify the formats of physical education, to integrate multiple activities.
The workshop is an opportunity for managers, scientists, managers and physical teachers from all over the country to exchange ideas, discuss solutions and models to improve the quality of physical education and sports activities. The Organizing Committee received more than 80 reports of which 61 have been published in the proceedings of the Workshop. The reports focused orientations for physical education in schools, colleges and universities; orientations for mass sports and the organization and economic management of mass sports; modern training trends; New models of physical education and sport training.