Compared to the 451st - 500th group in the 2019 and 2020 rankings and the 401st - 450th group in the 2021 and 2022 rankings, Hue University's Asian ranking has gradually improved due to the fact that the QS Asia University rankings scale becomes larger (the number of ranked higher education institutions have increased from 557 in 2020 to 760 in 2023).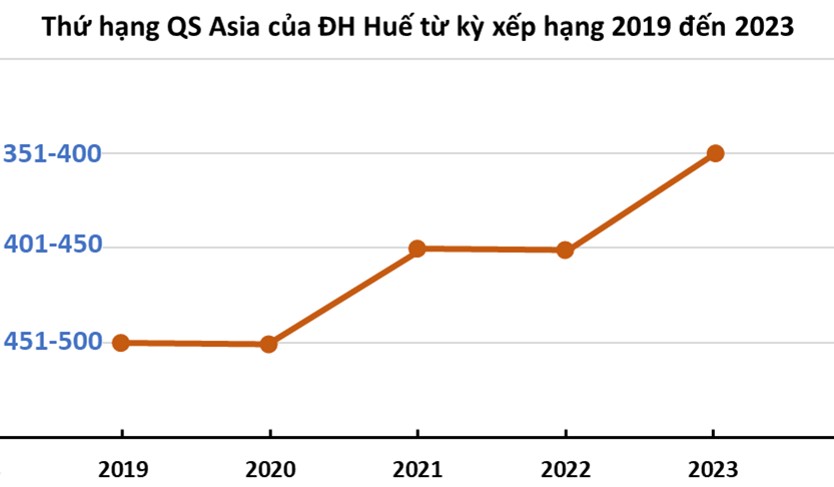 Moreover, the QS Asia University ranking indicators show that Hue University's ranking has steadily been higher in recent rankings.

In the rankings 2023, Hue University has 3 indicators with increased regional ranking compared to the rankings 2022. Especially, for Academic Reputation and Employer Reputation Hue University is in the 170th position and with International Research Network Hue University is in the 195th position.
According to the QS statistics, there is a rise in weight for Hue University indicators. For instance, the average number of published articles per lecturer is 0.18 - 0.30 - 0.38 - 0.48 and 0.63 respectively in the rankings from 2019 to 2023. Moreover, the average number of citations per paper of Hue University is 2.69 - 2.87 - 3.83 - 4.82 and 5.77 respectively from the rankings from 2019 to 2023.
Vietnam has 11 higher education institutions ranked in QS Asia University Rankings 2023, the highest position is still Ton Duc Thang University, followed by Duy Tan University, Vietnam National University - Hanoi, Vietnam National University - Ho Chi Minh City, Hanoi University of Science and Technology, Hue University, etc.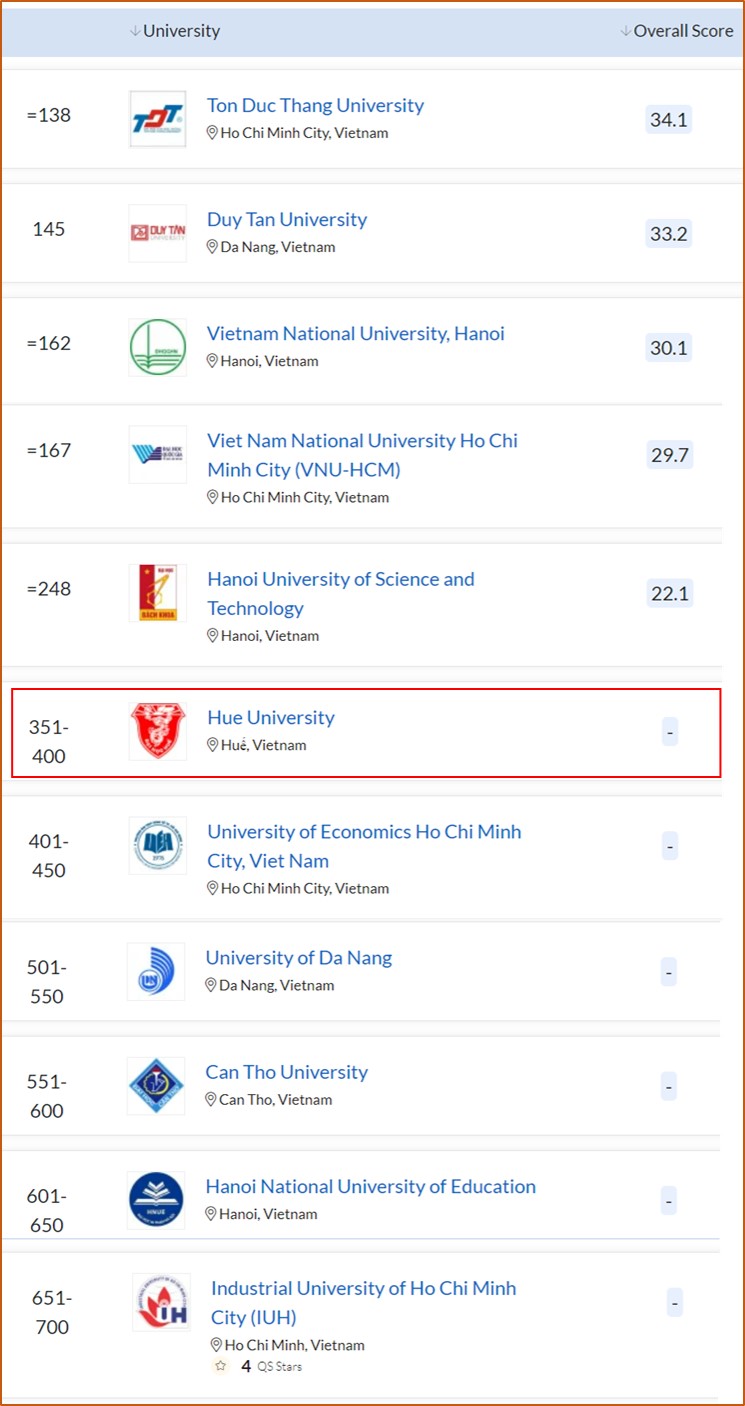 QS Asia University Rankings have been used by QS since 2009; Using indicators and weightings are slightly different from the global QS World University Rankings based on regional characteristics.
The 11 indicators used to compile the QS Asia University Rankings are as follows:
1. Academic Reputation (30%)
2. Employer Reputation (20%)
3. Faculty/student ratio (10%)
4. Staff with a Ph.D (5%)
5. Citation per paper (10%)
6. Papers per faculty (5%)
7. International research network (10%)
8. International faculty (2,5%)
9. International Students (2,5%)
10. Outbound Exchange Students (2,5%)
11. Inbound Exchange Students (2,5%)
(Source: https://www.topuniversities.com/university-rankings/asian-university-rankings/2023)
Reported: Pham Khac Lieu / Translated: Department of Science, Technology and International Relations, Hue University