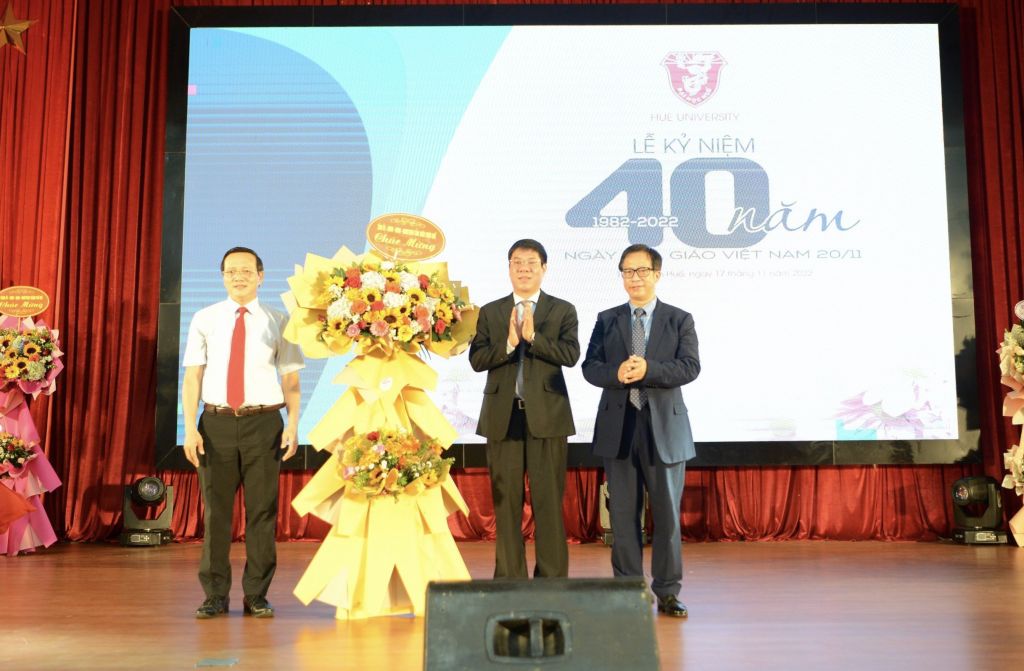 Mr. Nguyen Quang Tuan, Standing Vice Chairman of the Provincial People's Council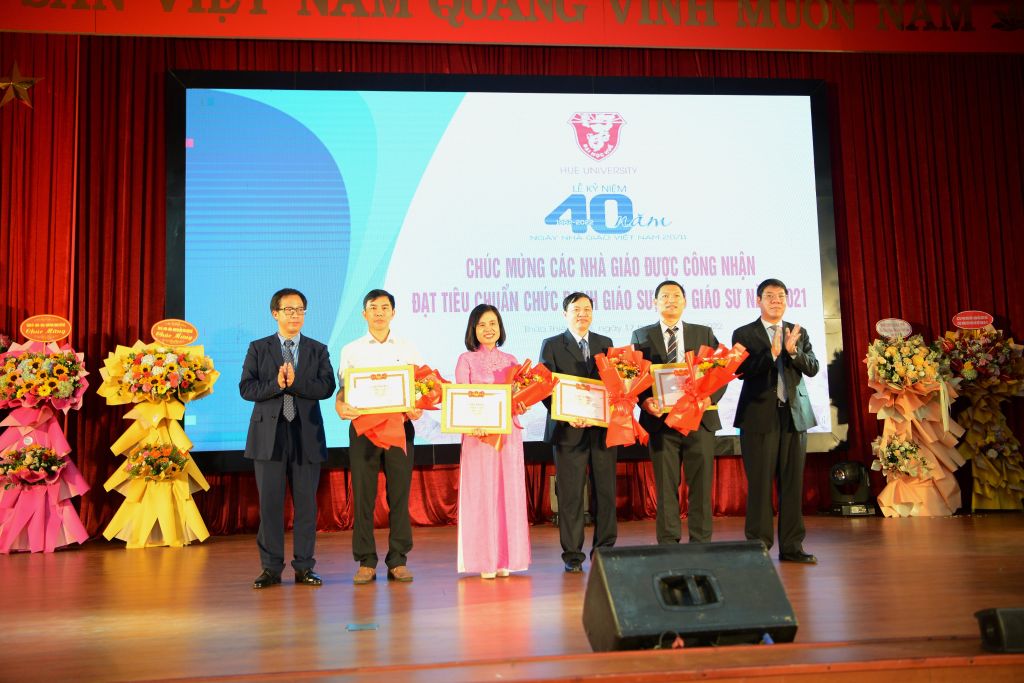 Assoc. Prof. Dr. Huynh Van Chuong, Hue University Council Chairman, and Assoc. Prof. Dr. Le Anh Phuong, Hue University President offer Commendation Certificates and flowers to Teachers who were recognized with the titles of professors and associate professors in 2021.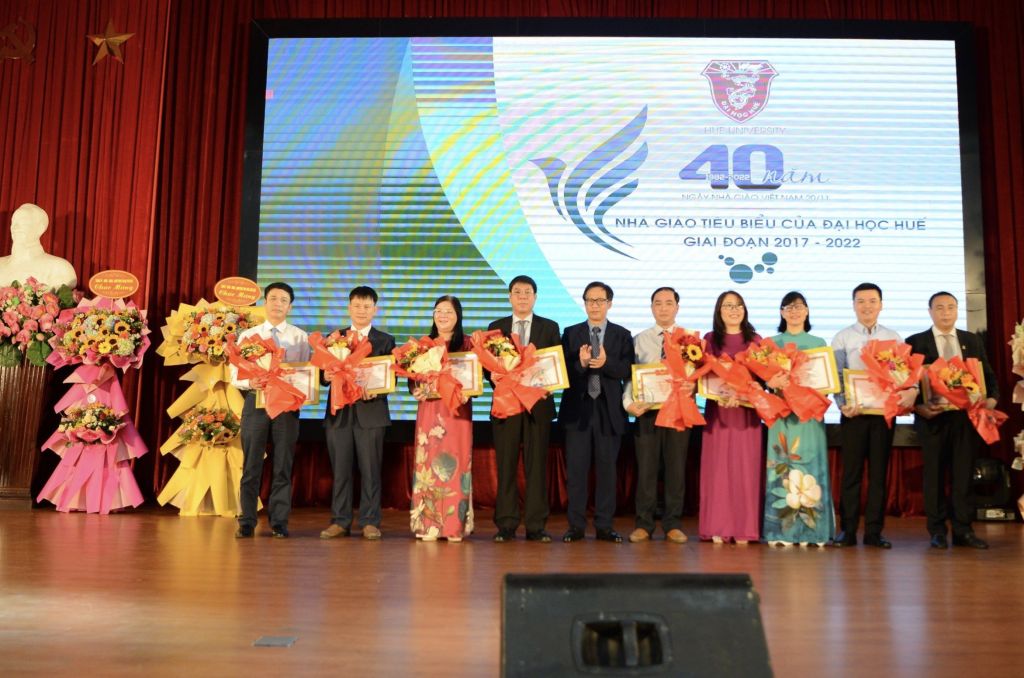 Hue University President offers Commendation Certificates and rewards to outstanding teachers in the period of 2017-2022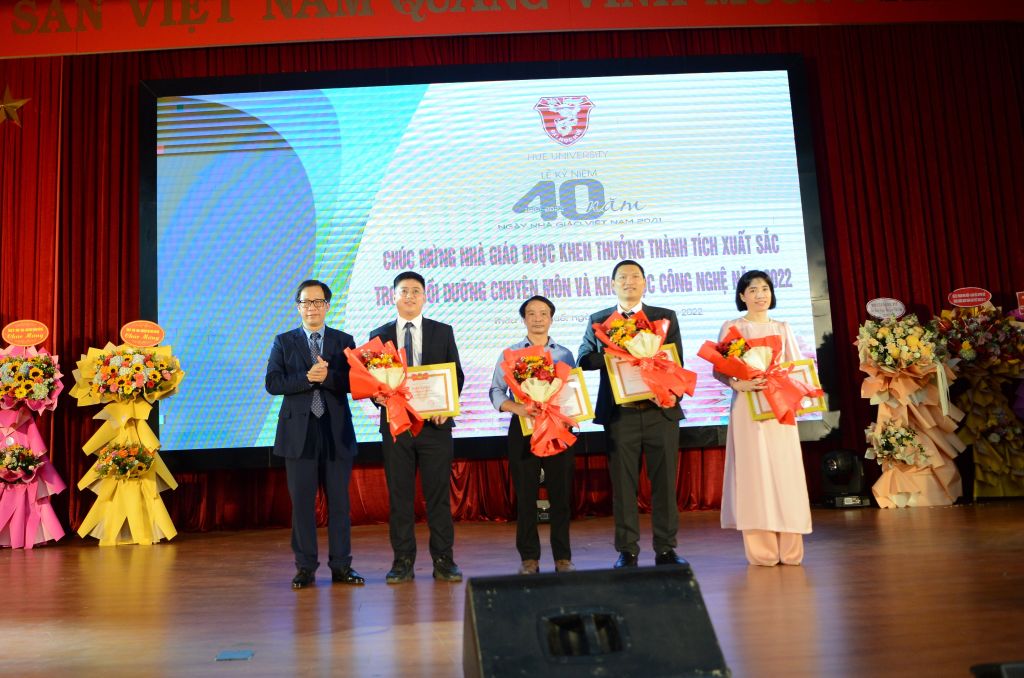 Hue University President commentates and gives rewards to officials with excellent achievements in professional fostering, science, and technology in 2022.
Delivering his speech at the 40th anniversary of Vietnamese Teacher's Day, Assoc. Prof. Dr. Le Anh Phuong, Hue University President showed his gratitude to the generations of teachers and conveyed his message to Hue University teachers about the mutual serving and building to honor own profession, deserving well in their position recognized by the society.
Currently, Hue University has approximately 50,000 students, 4,500 master's and doctoral students. Compared with higher education institutions in the country, Hue University is proud to be a multidisciplinary and multi-field university and covers almost all disciplines including medicine and pharmacy, agriculture, forestry, foreign languages, economics, arts, pedagogy, laws, tourism, information technology, natural sciences, social sciences, and humanities. The enrollment information of all training programs at Hue University has been widely spread which provides more opportunities for the expected learners.
Hue University continues to accomplish training programs that meet the high requirements of the national, regional, and international labor markets. The training quality has been enhanced thanks to the improvement of training programs, teaching, and learning methods (Outcomes Based Education). Teaching, learning, and evaluating activities are systematically designed to help learners achieve the output standards of the program. The teaching methods are adjusted to increase learners' activeness. The collaboration with related sides, especially with the employers and the enterprises is enhanced with the aim to draw the diverse resources in the society.
In the trend of international integration in education and training, Hue University has boosted up quality assurance. Hue University has moved up to the 351st –400th group in Asia and holds the 61st position in Southeast Asia and the 6th position in Vietnam. Hue University has 200 permanent professors and associate professors, approximately 800 PhDs, 30 foreign honorary professors, etc. Hue University has moved to the future with the wisdom, enthusiasm, and innovation of its scientists and teachers showing their love to profession.
On this occasion, Hue University commends and rewards standing teachers in the period of 2017-2022, teachers recognized the titles of professor and associate professor before the age of 40, teachers with achievements in raising professional levels and high national and international prizes, and teachers having scientific papers published in prestigious international journals in 2022.
Translated: Department of Science, Technology and International Relations, Hue University