On the morning of 11/3/2019, at Hue University, the Vice President of Hue University Do Thi Xuan Dung, had a working meeting with Mr.Dirk Hilbert, Mayor of Dresden City and Christian Berger, Ambassador of the German Federal Republic in Vietnam.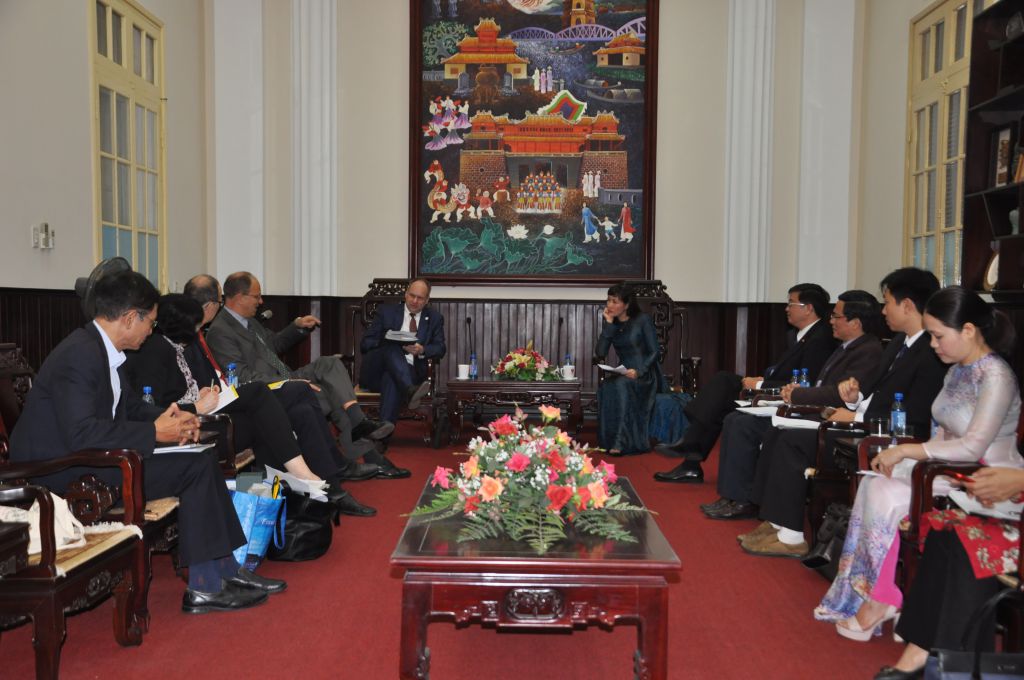 The two sides discussed in details cooperation potentials in development, technology transfer, with businesses in the fields of medicine, natural science, agriculture, forestry and the environment. At the meeting, Mr.Dirk Hilbert, Mayor of Dresden City and Mr.Christian Berger, Ambassador of the Federal Republic of Germany in Vietnam introduced the potential cooperation areas and collected information on the areas which Hue University and its affiliates are interested in.
Introducing the strengths of the city of Dresden, the mayor of Dresden, Mr.Dirk Hilbert said, the city is the capital city, with a long history, of the State of Saxony in Germany. Regarding area, Dresden is the fourth largest city of German after Berlin, Hamburg and Köln. Dresden was often listed among Germany's best places to live in. The mayor Dirk Hilbert hoped that two sides will cooperate to promote the social economic development of the two cities.
Dr.Do Thi Xuan Dung informed that Hue University is a multi-disciplinary university, including medicine, natural sciences, agriculture, forestry and the environment, which are Mayor Dirk Hilbert' areas of interest. There have been many collaborations between Hue University and German universities, institutions. Many lecturers of Hue University pursued their graduate studies in Germany and are currently Hue University's key managerial staff and have had positive contributions to Hue University. Hue University will send the proposals for the cooperation with the city of Dresden and the German Embassy, hoping that these collaborations will soon be realized. Dr. Do Thi Xuan Dung expressed thanks on behalf of Hue University's leadership, to the Mayor and the Ambassador for visiting and having the intention to promote cooperation with Hue University.