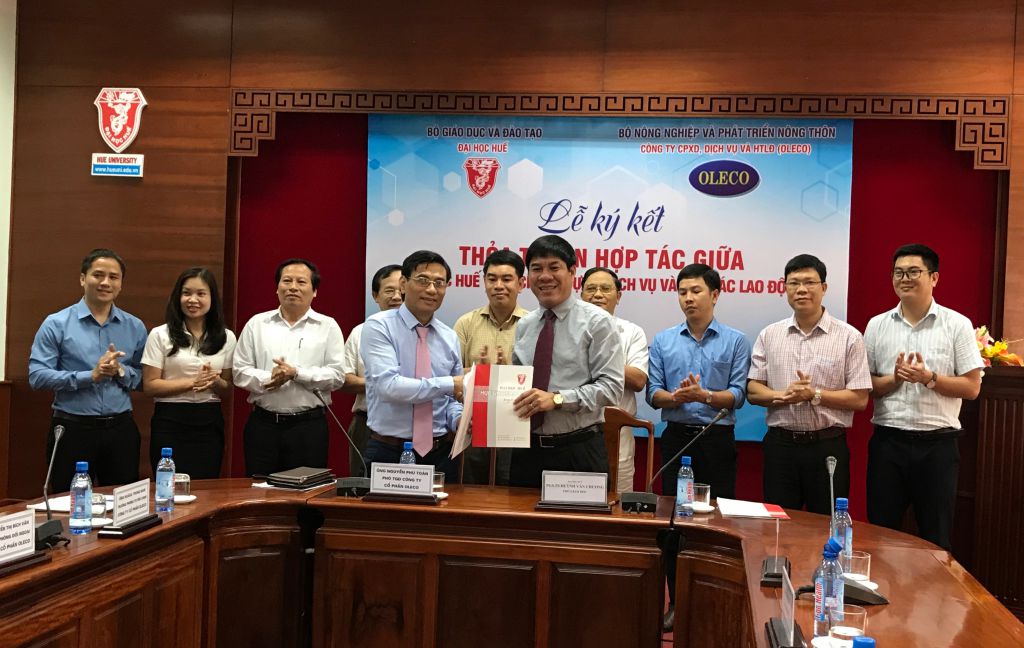 Vice President Huynh Van Chuong of Hue University and Deputy General Director Nguyen Phu Toan of OLECO Company signing the cooperation agreement in enrolling students to attend interships in Israel.
The internship program in Israel was started in 2017 by University of Agriculture and Forestry, Hue University and OLECO Company. In 2017, 54 students participated in the program; in 2018, 67 students; this year, Hue University is enrolling more than 150 students from University of Agriculture and Forestry and other member universities of Hue University.
Over the past few years, according to the agreement between the two sides, OLECO has interviewed, shortlisted and introduced HU students with Israel employment centers, managed students in Israel, ensuring students' benefits. During internships in Israel, per week students have 1 school day and 5 practising days at farms and processing factories. In addition, students have many opportunities to visit, travel, participate in cultural and music exchange activities, sports, etc. Beside opportunities to study and work in high-tech agricultural production centers, to improve working skills, to raise awareness on innovative businesses, after 11 months of internship, each student can earn from 100 to 200 million VND. Furthermore, students are given credits for the internship time.
Assoc.Prof.Dr.Huynh Van Chuong, Vice President of Hue University affirmed that the cooperation program with OLECO Company is a good one, suitable for all students in different disciplines of Hue University's member universities. Therefore, starting with the cooperation with University of Agriculture and Forestry, Hue University has been increasing the cooperation scope to create more opportunities for students throughout Hue University to gain practical experience, change learning attitutes and pratise entrepreneurship and creativity when still pursuing an undergraduate degree.,4
Hue University interns at Israel high-tech farms
Hue University students study, attend workshops and do internships at Israel research centers