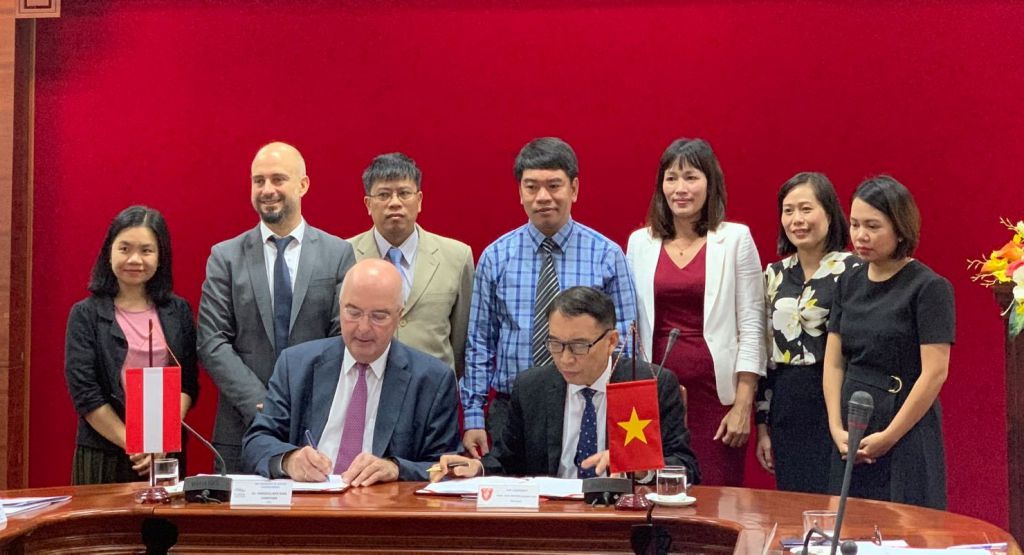 Hue University signed a cooperation agreement with IMC University of Applied Sciences KREMS, Austria
Diversifying training programs, developing joint training programs
The Resolution 54 of the Political Bureau clearly showed the building of a high quality multidisciplinary and multi-field center on the basis of developing Hue University as the National University and attempting to be the top 300 universities in Asia. Currently, Hue University has 147 undergraduate training programs, an increase of 40 programs compared to 2015; 102 master programs, an increase of 12 programs compared to 2015; 55 doctoral programs, an increase of 16 programs compared to 2015, and approximately 50,000 students. Compared with higher education institutions in the country, Hue University is proud to be a multidisciplinary and multi-field university and covers almost all disciplines including medicine and pharmacy, agriculture, forestry, foreign languages, economics, arts, pedagogy, laws, tourism, information technology, natural sciences, social sciences and humanities ... More specifically, among 5 national and regional universities, only Hue University offers training programs in Fine Arts and has all disciplines of. agriculture, forestry, and fishery. University of Education, Hue University specializes in training teachers while other universities of education all over the country offer courses in a variety of fields including science and foreign languages. Besides, only Hue University provides tourism training programs at undergraduate, postgraduate and doctoral levels.
In the past years, Hue University Party Committee has concentrated on stable training programs and giving priority to the development of new training programs. In 2020, Hue University provides many new disciplines such as Data Science and Artificial Intelligence, International-Economy, International Relations, Logistics and Supply Chain Management, High-Tech Agriculture, Date Management and Analysis, and Midwifery that meet the social demands and the requirements of the 4.0 industrial revolution.
Hue University also focuses on international cooperation and has had many synchronous solutions. Hue University has implemented many successful joint training programs taught in English such as the Advanced program in Physics between the University of Education, Hue University and Faculty of Physics, University of Virginia; Advanced Bachelor's in Agricultural Economics and Finance between the University of Economics, Hue University and the University of Sydney; Hue-Okayama International Master's on Rural system Sustainability and Environment between Hue University and Okayama University, etc. After completing these programs, graduates have plenty of job opportunities.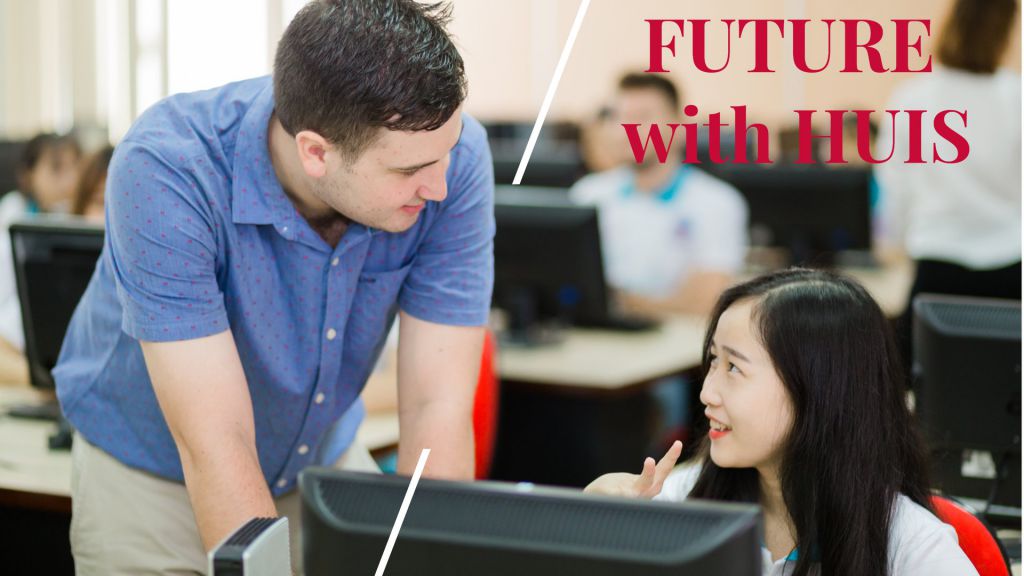 Testing and quality assurance, improving and enhancing the quality of sustainable education
Higher education quality assurance is a key task that is implemented systematically and thoroughly in Hue University. Hue University has been the earliest one that implemented the accreditation of educational institutions in the country since 2016 and 2017. Forming an internal quality assurance system and quality culture is a key factor to improve the quality and the position of Hue University in Vietnamese higher education system. In the past 5 years, Hue University has been highly ranked by the world's prestigious organizations. According to the QS Asia University Rankings, Hue University is in the group of 350 top universities in 2016 and 2017, in the group of 400 top universities in 2018, and in the group of 500 top universities in 2019. In 2020, Hue University was ranked the 7th out of 10 highest-ranked universities in Vietnam. Especially, in 2019, Hue Univerisity was recommended to foreign students by Time Higher Education. 7 out of 8 member universities of Hue University have completed the quality accreditation and have been recognized to meet the quality of higher education institutions in the 2017 - 2023 period. 6 training programs have been completed with the external evaluation.
The enrollment information of all training programs at Hue University has been widely spread which provides more opportunities for the expecting learners.
The training quality has been enhanced thanks to the improvement of training programs, teaching and learning methods (Outcomes Based Education). The output standards of training programs are reviewed and completed based on the actual requirements. Teaching, learning, and evaluating activities are systematically designed to help learners achieve the output standards of the program.
Hue University continues to accomplish the training programs that meet the high requirements of the national, regional, and international labor markets. The teaching methods are adjusted to increase learners' activeness. The collaboration with related sides, especially with the employers and the enterprises is enhanced at the aim to draw the diverse resources in the society.
Promoting the investment of facilities and application of IT in teaching
For the past 5 years, Hue University has focused on investing in facilities for Hue University Urban Area in Truong Bia and its member's universities and units, ensuring to serve teaching, learning and research in conformity with the planning of socio-economic development towards building Hue University as Hue National University, contributing to improving infrastructure, urban and social-economic development in Thua Thien Hue province in particular and in the Central region in general based on Resolution 54 by the Political Bureau.
Apart from improving facilities to raise the quality of training and scientific research, Hue University is attempting to boost the application of science, technology, and information technology to the management of training and teaching.
Resolution 54 (dated 10 December, 2019) of the Political Bureau on building and developing Thua Thien Hue province to 2030 with a vision to 2045 was the cross-cutting objective of Thua Thien Hue province and Hue University. For the development of Hue University, Resolution 54 clearly stated such contents as the building of a high quality multidisciplinary and multi-field center on the basis of developing Hue University into the National University, the University of Medicine and Pharmacy, Hue University in the national "University- Hospital" model and towards the international standard, the development of science and technology, etc. Hue University is determined to be an inseparable institution of Thua Thien Hue province. One of the concerns raised by provincial and Hue University leaders is how to develop Thua Thien Hue province into a city directly under the Central Government and Hue University into the National University.
Basing on Resolution 54, Hue University continues to improve international cooperation in order to access advanced education and training standards in the region and the world in conformity with such local development requirements as: Strong development of the human resource training links in the fields of economy, tourism, IT and high-tech; Localization and diversification of cooperation categories, maintaining collaboration with traditional partners as well as developing cooperation with national and international partners; Proper investment of key and typical sectors; taking priority over high-quality training programs which are at the purchase order of employers and capable of attracting international students.

Assoc. Prof. Dr. Huynh Van Chuong, Hue University Vice President
Translated: Department of Science, Technology and International Relations, Hue University