Hue University Center for Entrepreneurship and Innovation has recently collected a giant grouper that has been trialed in Loc Binh commune, Phu Loc district, Thua Thien Hue province since 2015 (Hue University Center for Incubation and Technology Transfer). When caught, the fish weighed about 25 kg. After 3 years, the fish reaches more than 55 kg. The market price of this fish is from VND 400,000 to VND 500,000 per kg. 
The Grouper, also known as the king grouper (Epinephelus lanceolatus), its English name is Giant grouper, which means giant fish in the species of grouper. It is the largest bony fish found in coral reefs and is the aquatic emblem of Queensland, Australia. It is found throughout the Indo-Pacific region, with the exception of the Persian Gulf. In Vietnam, the giant grouper lives in coastal waters of Quang Ninh – Hai Phong, Nam Dinh, Quang Tri, Ca Mau – Kien Giang, and Thua Thien Hue. The species can grow up to 2.7 meters long, weighing up to several hundred kilograms although there are unconfirmed reports of its growing much bigger. They are fairly common in shallow waters and feed on a variety of marine life, including small sharks and juvenile sea turtles.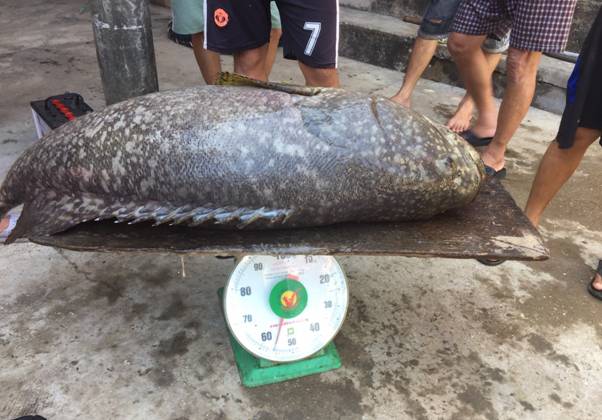 The giant grouper of 55 kg
Grouper is an economically valuable species with a high growth rate. Although, grouper is a saltwater – brackish water species, it can survive the transfer to freshwater up to 30 days.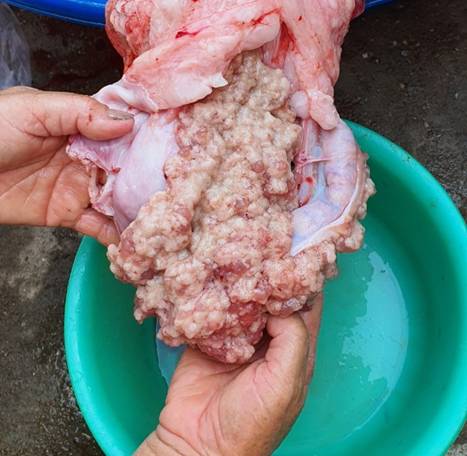 Giant grouper
Therefore, the 55 kg grouper has eggs when harvested. Interestingly, giant grouper and many other species of groupers can change sex during its growth and development. Many previous studies have shown that some species of groupers change sex from female to male when they grow older or vice versa. Moreover, there are many articles on grouper viscera, especially its entrails (photo 3) which is a popular dish in urban areas.
Reported: Vinh Phuong / Translated: Department of Science, Technology and International Relations, Hue University