On the morning of October 2, 2018, the opening ceremony of the first expert training workshop of the TOURIST Project was held at Hue University. This training workshop is one of the TOURIST project activities to building competence centres for the development of sustainable tourism and innovative financial management strategies to increase the positive impact of local tourism in Thailand and Vietnam. This workshop will take place in 4 days from 2 - 5/10/2018 to tranfer knowledge to nearly 40 academic staff from the tourism universities, faculties, institutes in Thailand and Vietnam.
Speaking at the opening ceremony, Vice President Do Thi Xuan Dung of Hue University stated that She strongly believed that the TOURIST project is very comprehensive and supportive to all of us – higher education institutions – in fulfilling the missions of training human resources in tourism, building up competence centres for the development of sustainable tourism and financial management strategies in local areas, as well as raising awareness of all relating parties towards sustainable tourism.
The trainers are professors from three European University: FH Joaneum (Austria), Haaga-Helia University of Applied Sciences (Finland), University of Alicante (Spain). The contents of the workshop focus on Tourism and Sustainable Tourism: Destination development Analysis, Tourism development in Southeast Asia, Paradoxes and challenges of sustainable tourism, Sustainable tourism indicators, Stakeholders of sustainable tourism, Commitment to sustainable tourism practices, etc.
Vice President Do Thi Xuan Dung presented souvenir gifts to the workshop trainers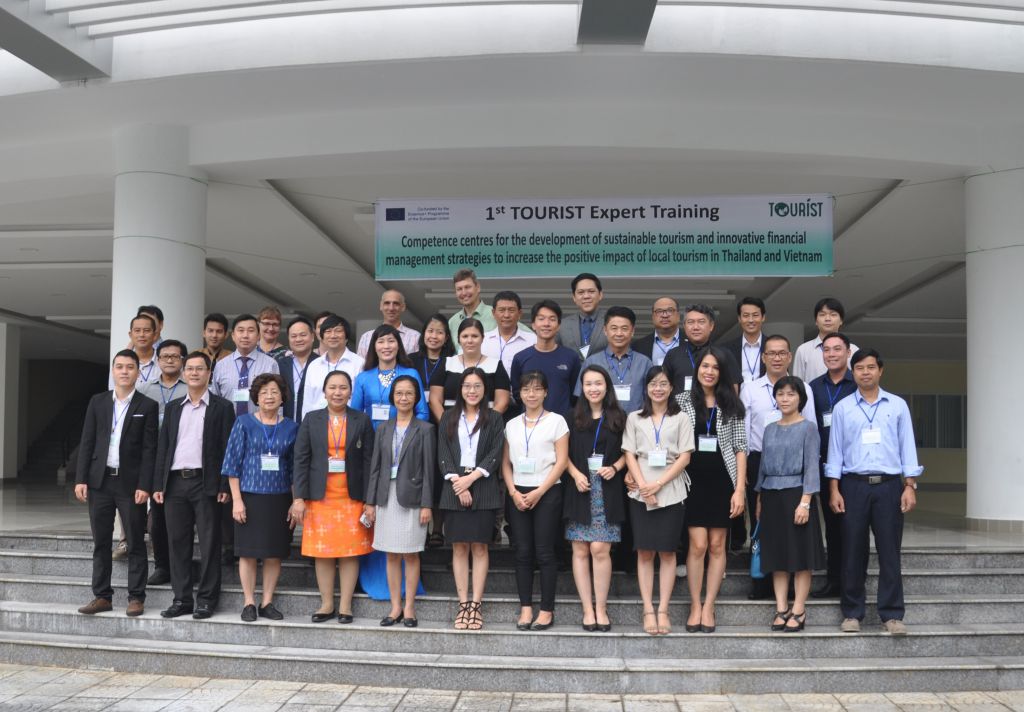 All workshop participants gathered in front of one of Hue University's building