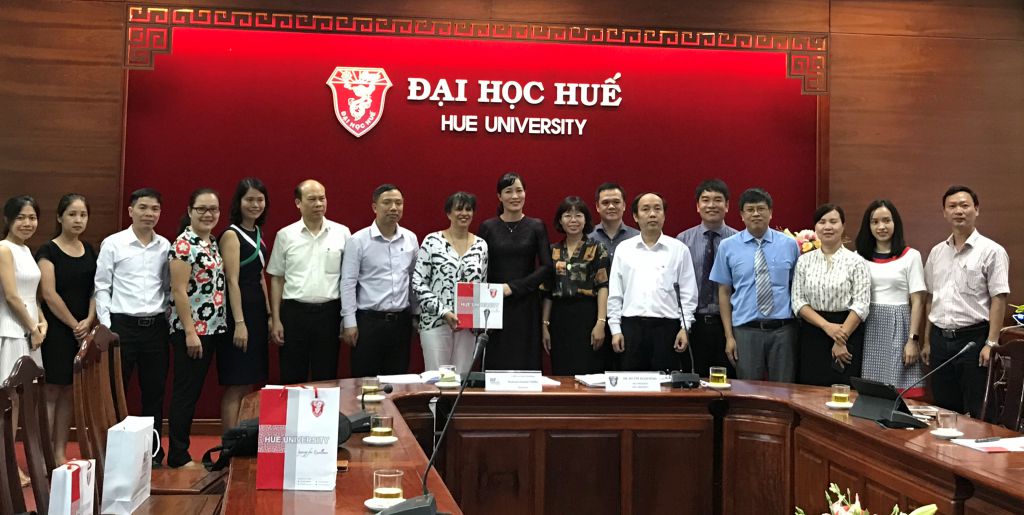 To affirm the long-term cooperation between Hue University and The Francophone University Agency (AUF), French universities, Dr. Do Thi Xuan Dung, Hue University Vice President noted that recently, Hue University has signed cooperation documents with 12 universities, institutes and training centers in France. There have been a lot of bilateral cooperation activities and projects to be implemented.
Over the past few years, AUF has supported Hue University in such typical projects as ECOBOOT 2019-2020; Blended Training Project, Digital library BNEUF. Hue University has enthusiastically participated in all activities launched by AUF.
Ms. Ouidad Tebbaa expressed her delightfulness on the cooperation results thanks to the relationship between Hue University and AUF as well as with French organizations and institutes. With more than 1,000 worldwide universities in the network, AUF focuses on supporting cooperation among those universities using French, contributing to the development of university training and research.
Located at Vietnam National University in Hanoi, AUF Asia-Pacific Office has conducted many supporting activities in Vietnam including 36 undergraduate training programs and 14 Master's programs; organizing scientific workshops and conferences; supporting scholarship to students and teachers.
At the meeting, both sides looked back on the achieved cooperation results and discussed the upcoming possibilities for cooperation, i.e., continuing startup and entrepreneurship projects; blended training projects; Smartuni project; developing Francophone space; improving bilateral cooperation on scientific research, technology transfer and intelligence property; supporting "La boulangerie Francaise" (Lò Bánh mì Pháp), a training program in French bakery & pastry, targeting Vietnamese vulnerable youth under the cooperation of Hue University and European Institute of Cooperation and Development (IECD).
Reported: PV / Translated: Department of Science, Technology and International Relations - Hue University