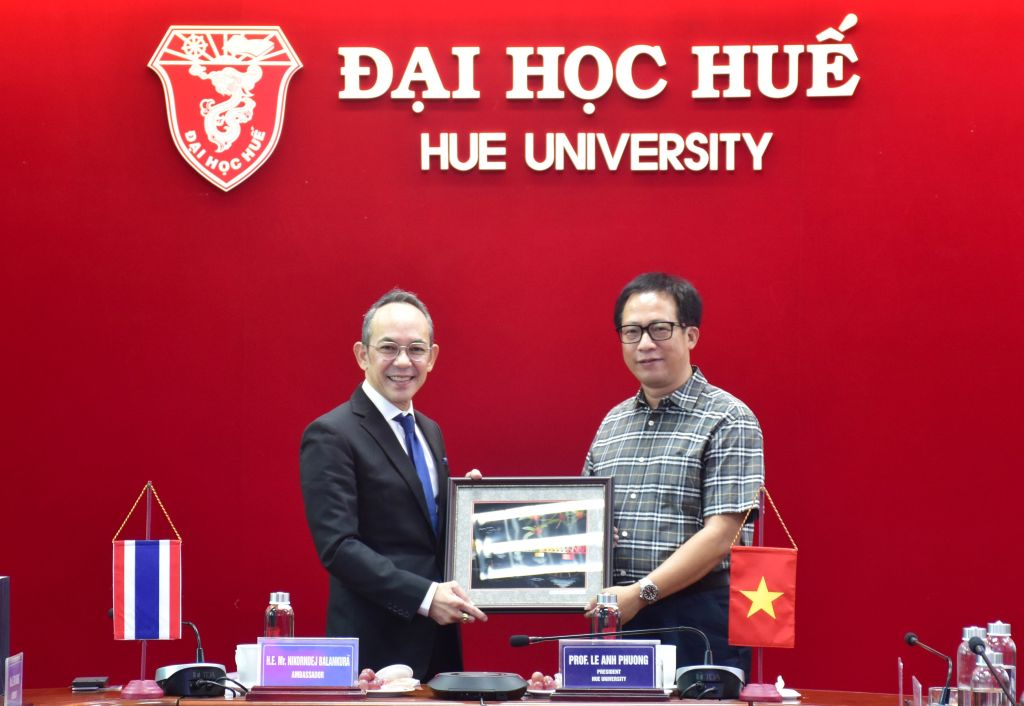 Assoc. Prof. Dr. Le Anh Phuong, President of Hue University receives and works with H.E. Mr. Nikorndej Balankura, the Ambassador of the Kingdom of Thailand to Vietnam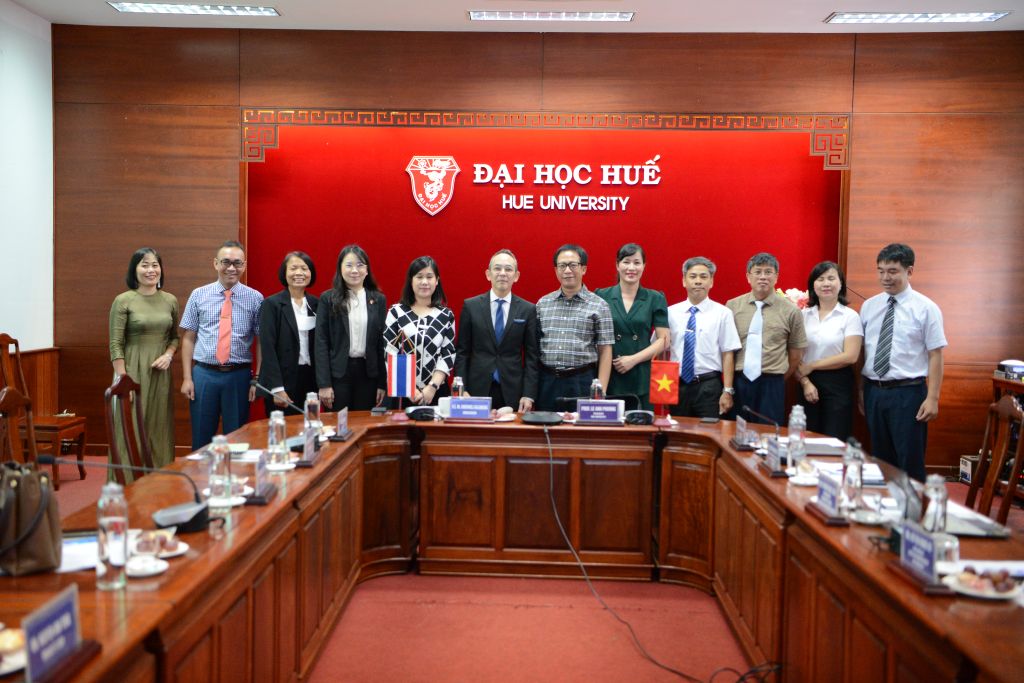 Assoc. Prof. Le Anh Phuong, President of Hue University expressed his gladness to receive H.E. Mr. Nikorndej Balankura, Thai Ambassador to Vietnam, and the delegates from the Royal Thai Embassy. At the meeting, the President introduced the 65th year history of Hue University establishment and development. He revealed that in the process to build Hue University to become a National University, Hue University determined to boost international cooperation as one of its strategies for promoting human resources. Moreover, he recognized that Thailand was one of the potential Asian partners of Hue University. Since 2017, Hue University and its member universities have signed MOUs with 12 Thai universities to cooperate on training and research, teaching staff and student exchange, and establishment of short training courses and programs on culture and language exchange. Many lecturers of Hue University have had Thai scholarships, do exchanges and join in training courses at Thai universities.
As one of the key universities in Vietnam's education system and situated in Hue city, a cultural city in ASEAN region, Hue University expects that the Royal Thai Embassy will serve as a bridge to develop the cooperation between Hue University and Thai universities and organizations in a deeper and wider way. Specifically, the two sides will continue to boost teaching staff and student exchanges in various fields, promote joint training programs, cooperate in doing research, carry out projects upon mutual interests, organize conferences and workshops in Hue University, etc.
H.E. Mr. Nikorndej Balankura, Thai Ambassador to Vietnam affirmed to serve as a bridge and continue to develop the relationship between the two sides based on the similarities, strengths, and potentials of both sides in culture, education, tourism, etc. The Ambassador emphasized that the two-way teaching staff and student exchange would imitate the cooperation between two sides. The Royal Thai Embassy is willing to support Hue University in setting up a Thai corner attracting students and learners who take much interest in Thai culture and language. The Ambassador hopes that Thai people will know more about Hue as a famous city in culture and tourism with the strength on education in Vietnam.
Reported: AH / Translated: Department of Science, Technology and International Relations, Hue University